Last week was a huge milestone for us as we officially launched balancr. Since then, we have already received a lot of valuable feedback on our API platform.
We spoke a lot about what balancr can do for early stage fintech startups in our previous post. But as we briefly mentioned during our launch, the balancr API can be adapted to suit a variety of needs. In the image below you can see the basic workflow when integrating balancr into your existing infrastructure.

In this post, we want to highlight other little-known ways you can use balancr. Here, you'll find six different examples of how you can take advantage of balancr's API platform.
1. Personal Budget Management App
For anyone who wants to build an application to track costs or for budget management, balancr's API platform provides the perfect infrastructure for storing the data of your users.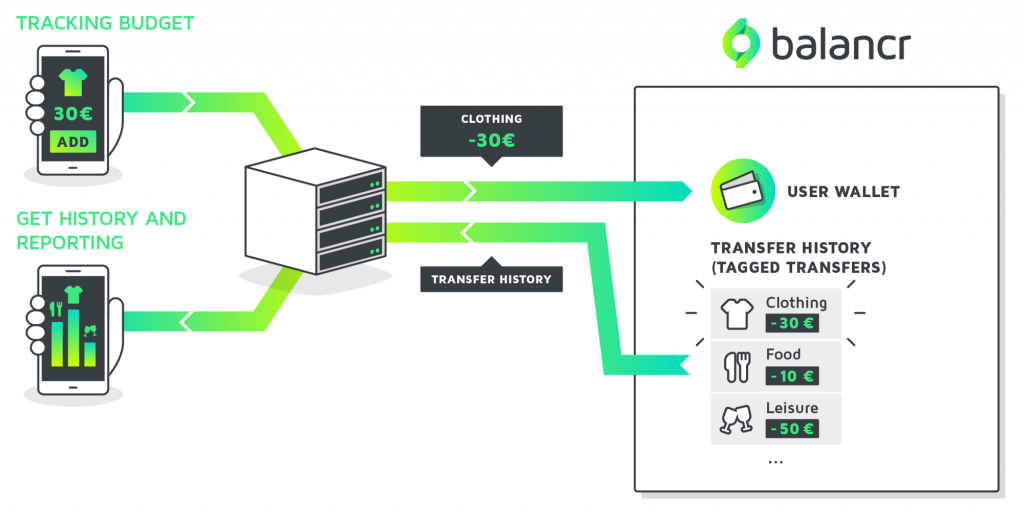 Once you've connected your system through our API with balancr, you can easily manage your user accounts from your dashboard. You can create wallets for each of your users, where costs can be tracked. Different budgets, for example for clothing, food and leisure, can be created by categorising transfers through tagging.
Additionally, with historical data available, this allows your users to get an overview of their spending habits overtime. What's more, you could also use the data stored in balancr to develop an analysis of how much was spent and saved per category, for your users within your application.
2. Managing Virtual Currency For Gaming Apps
If you're a game developer who has incorporated virtual currency like game coins into your game — you can now use balancr for keeping track of the coin balances of all your players.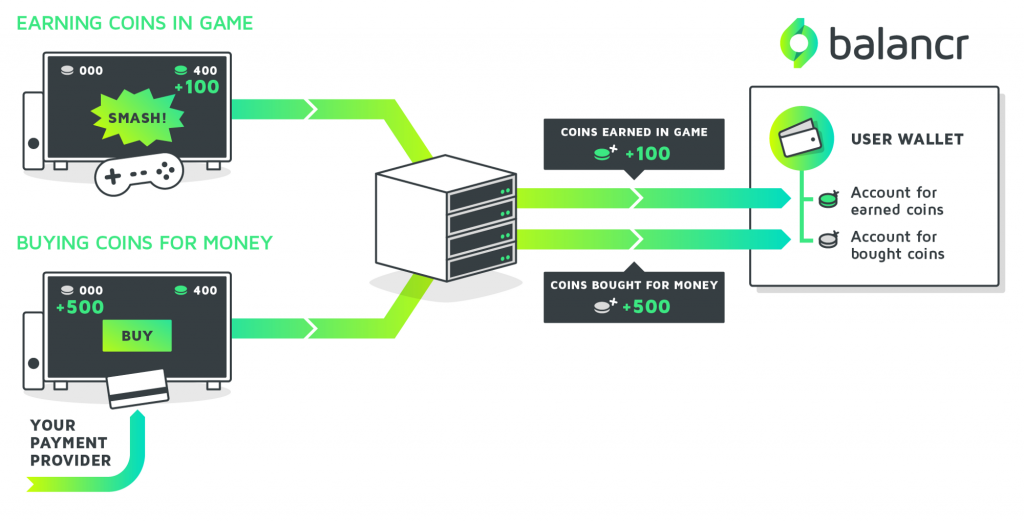 Each player could have two wallet accounts associated with his profile; one for virtual currency earned within the game for achievements (e.g. gold coins), the other representing coins that can be bought for real money (e.g. platinum coins).
Together the wallet accounts represent how many coins each player has and can spend within the game.
Everything you'll need for managing your game's virtual currencies is already built for you with balancr's API platform — so you can focus 100% on improving your game.
3. Incentives Programmes
Did you know balancr can be used to track reward points? That's right. If you are running a loyalty programme or thinking of setting one up, balancr can be used to see how many reward points each of your customers has earned.

With your own business logic you can even assign a defined value for each reward point. For instance, whenever a customer buys something worth 10€, balancr can be used to store the amount of 5 reward points. For each reward point earned, you can use balancr to assign a redemption value, that is the "money value" each point holds.
What's more, balancr is not just limited to managing reward points. You can also manage a referral or affiliate program based on different user inputs or system triggers through balancr.
For instance, each user can have a wallet where credits can be added when a specific action is triggered such as inviting a friend or sharing on twitter. The value of a 'credit' to be transferred to the user as a reward is entirely up to you, and could be a one month free subscription or access to an exclusive ebook.
4. Crowdfunding and Social Payments
Want to incorporate crowdfunding or shared social payments into your product? With balancr's API platform it's now easier than ever.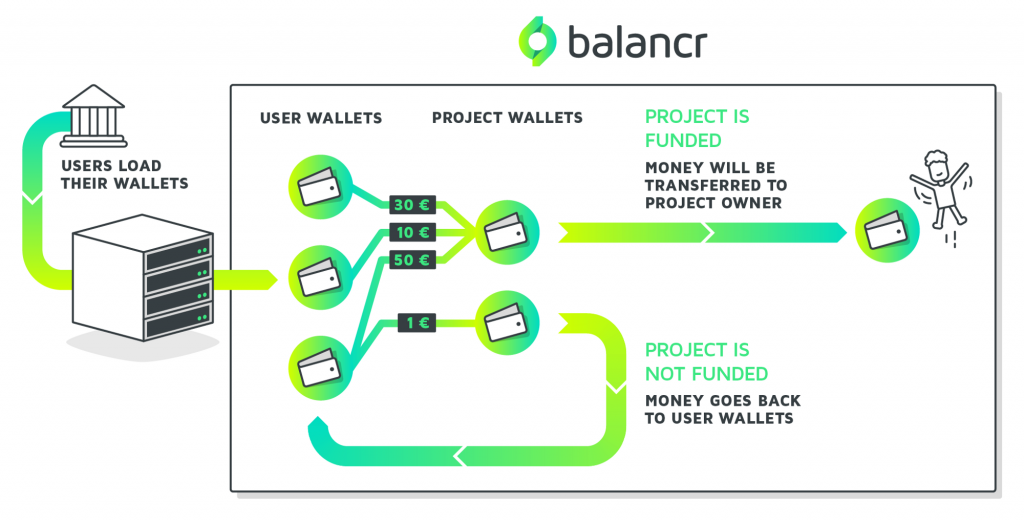 The functionality can be added based on top of balancr's platform and enables your users to complete transfers between each other. All you need is just a few lines of code to deliver more value to your customers and you're all set.
Additionally, if you're building an application to share costs with friends for a party, a birthday present, or raise funds from the public for an innovative project — balancr can manage the collection of funds into one wallet acting as a 'money pot'. Furthermore, balancr can also be used to track transfers back to the funders in case a project or event was cancelled. This helps provide an overview of how much each person has invested over a period of time.
5. Vehicle Rentals and Leasing
Whether you're renting cars or leasing forklifts or diggers to construction companies — balancr is ideal for storing how many kilometres were driven or how many hours a vehicle was rented for, and also for managing prepaid budgets for rentals.

After connecting your system that tracks kilometres or usage hours to balancr, each vehicle can have his own wallet where kilometres or usage hours can be converted into costs. Alternatively you can create a collective wallet for tracking the usage of all company leased cars at one place (like in the picture above). The conversion rate, and whether the wallet belongs to a person or an object (a vehicle), is of course up to you to define. Credit can also be transferred into the wallet to create and manage a prepaid balance for vehicle leasing.
6. Building a Marketplace
For anyone building an online marketplace application or selling digital content like WordPress themes or stock pictures, balancr is a solution for managing your buyers and sellers accounts.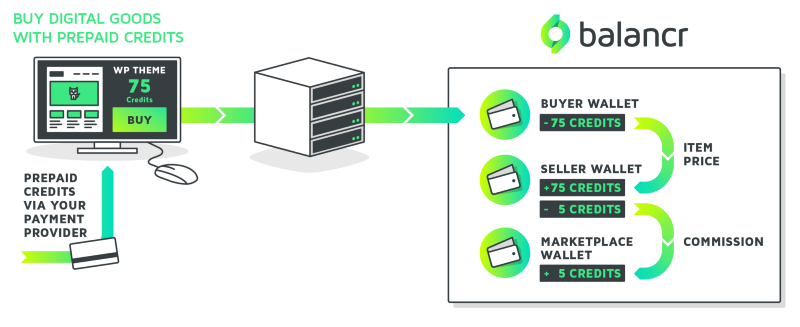 By integrating balancr into your marketplace, you can easily enable transfers between buyers and sellers within your application. Once a buyer funds his wallet through your payment provider, balancr will track how much credit is in his account and help you to decide, whether a purchase can be completed with the existing balance. Upon completion of a purchase, the according amount can be transferred to the seller's account using balancr. Subsequently a specific commission amount can be transferred from the seller's account to your marketplace account. balancr supports both 2-step reserve/capture mechanism and also 1 step authorise transfers.
This means you can handle the accounting part through balancr and use the payment service provider you prefer. With our software in the background you can model different purchase processes in your marketplace like pay-per-item or subscription.
---
To get started all you need to do is sign up at balancr.io to register for your free account. Once you're registered, check out our documentation to discover how you can fully integrate balancr and connect it with your systems. Testing integrations and experimenting in the Sandbox environment is completely free.