The rise of Asia — that is one of the more cited prospects when it comes to finance and technology. It is well justified. In less than a decade many Eastern nations established themselves as counterpoints to Silicon Valley. Undoubtedly, they will play a major role in the future of fintech. And to display a prospect of said future, fintech conferences spring up all around the continent.
Aside from China, where conferences like the Hong Kong Fintech Week and next year's Money 20/20 China take place, Singapore stands out as one of Asia's biggest fintech hotspots. The city-state did not only issue a new innovation hub in the heart of its business district. It holds the Singapore Fintech Festival as well. Luckily, we had the chance to experience the event — and we returned highly impressed.
The Location
According to the organizers' statements, the Singapore Fintech Festival is the biggest fintech event on the globe. Having spent three days on location we know it's not an overstatement. We would have preferred to stay a few days longer, given the conference's sheer size: So many business encounters, so little time. At least we didn't need to waste precious minutes at the entrance — the security checks, like everything else at the Festival, proceeded fast and were well-organized.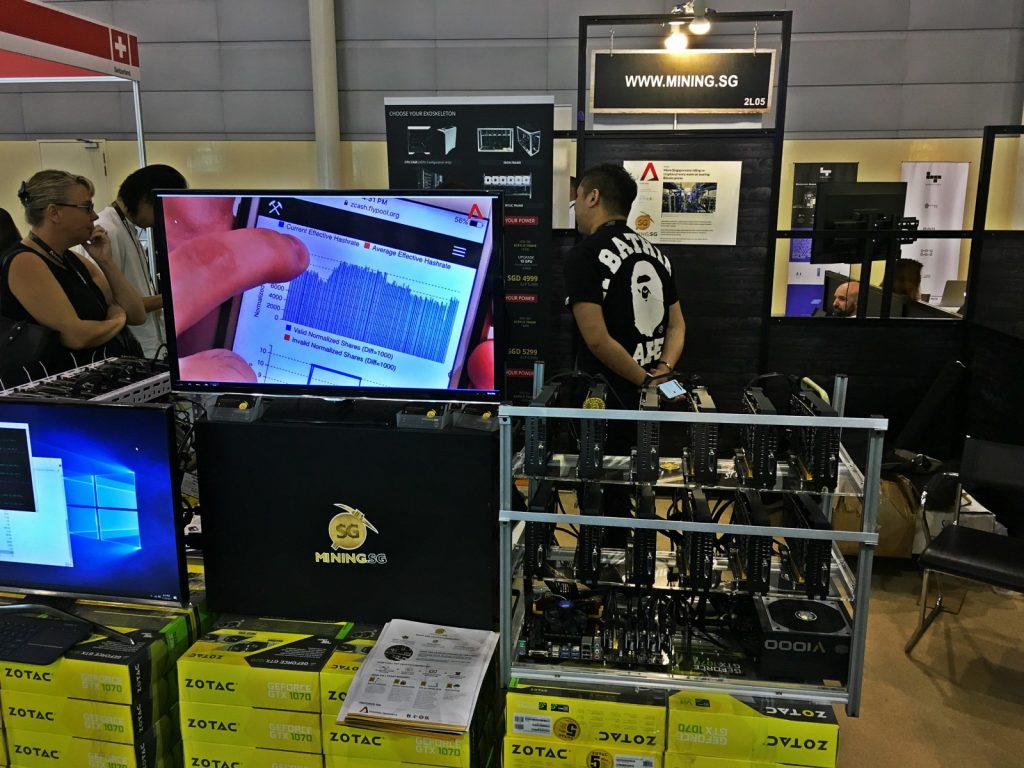 Official numbers amount to 25.000 visitors this year. The Singapore EXPO Convention and Exhibition Centre provided sufficient space for all of them. The layout of the conference area made good use of the available space in the halls. We have maintained booths at similar conferences, like Money 20/20 in Copenhagen and Las Vegas. Hence we were especially fond of how well-conceived the Festival's startup area was. Plenty of room between the booths invited us to take our time as no crowd of visitors pushed us forward. That said, the startup area was not unfrequented at all. In fact, the organizers had placed it at a prominent spot and directed casual visitors through it. In this way the Festival provided good opportunities for small companies to attract notice.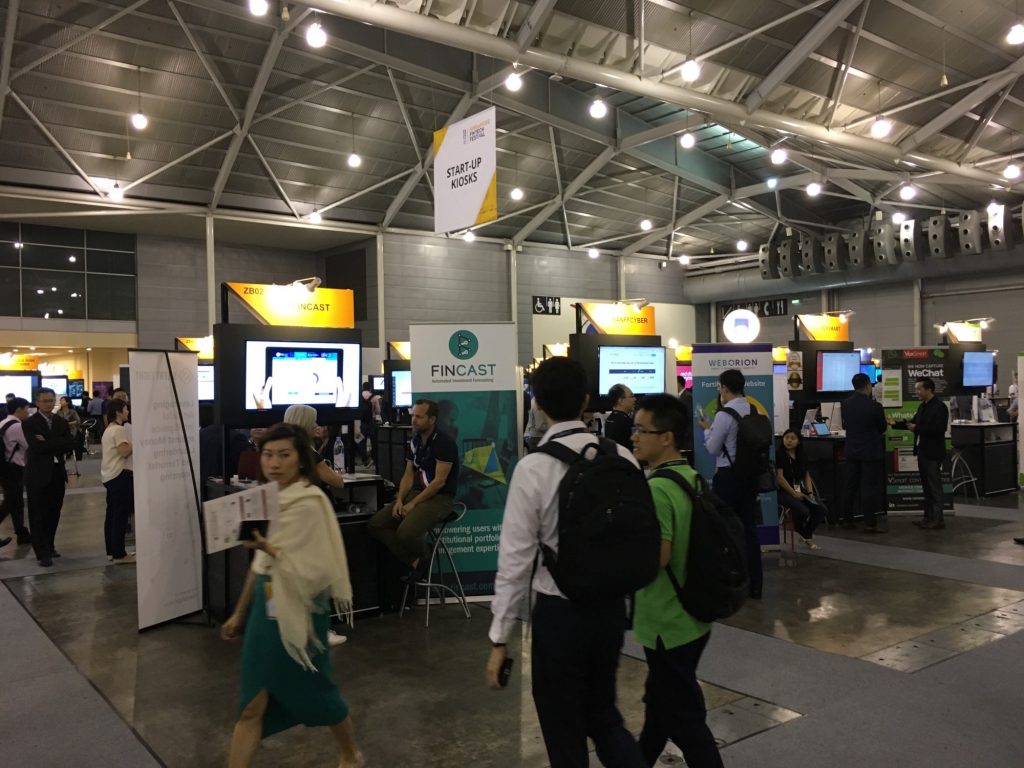 At the Singapore Fintech Festival, speakers and experts also found themselves at the centre of attention. Quite literally: The audience encircled the stages where the talks happened. In comparison to other fintech events, no topic stood out predominantly. Rather, the speakers addressed a wide variety of subjects.
The Event
Thisdiversity also found expression in the company lineup. The Singapore Fintech Festival presented itself as very business- and banking-centric. Technology was more of a side issue. The company lineup can be called impressive, nonetheless. The Bank of China featured a big presence at the conference, as did the United Overseas Bank, who also organized pitches for startups. Investors could be happy to have a wide array of movers and shakers in one place, including A.I. developers, data analysts and IT specialists like IBM. Additionally, a few non-fintech companies made their presence known as well — the database service MariaDB, the CRM company Salesforce and the machine data analyzer Splunk among them. With SuperCharger, we also discovered an old acquaintance from Hong Kong.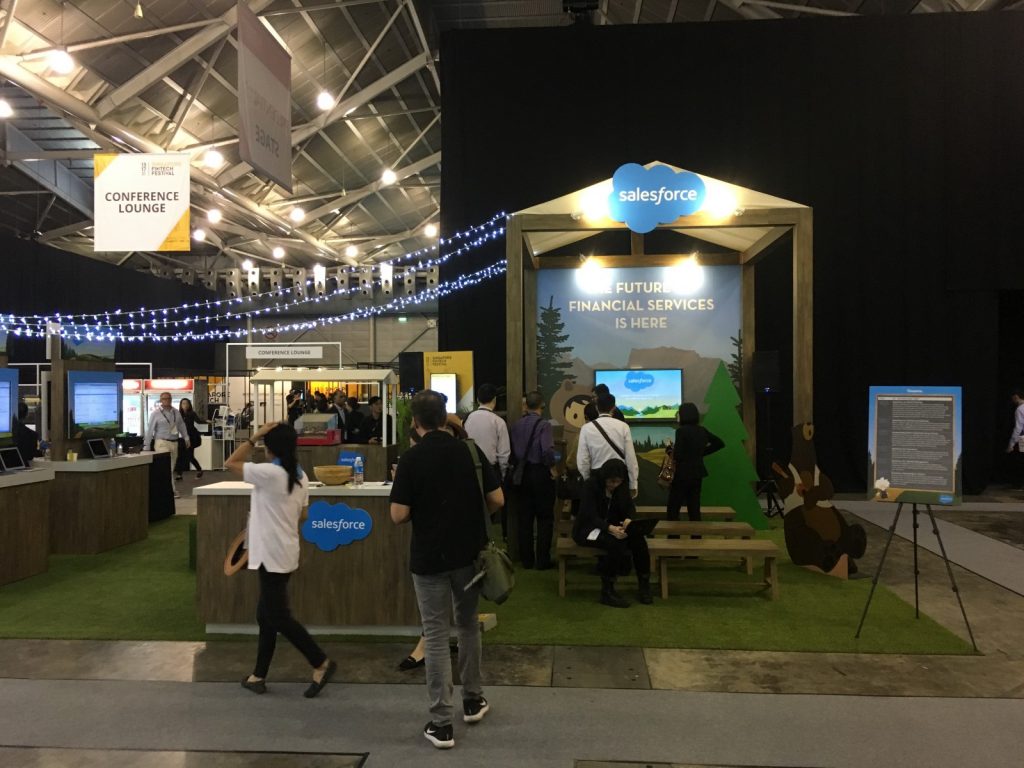 Conclusion
Overall, we experienced the Singapore Fintech Festival as a very lucrative event for companies from all walks of the industry. However, we also felt that competition was more intense here, compared to events like Hong Kong Fintech Week. That doesn't comprise the unique chances Singapore offers as a business location, however. The country is very well developed and well-connected when it comes to fintech. On our part, we definitely won't miss the next episode of the Singapore Fintech Festival. But we will attend with a bigger team — so much to see…
---
We are already looking forward to the next conference year. Our team will be attending events at various fintech hotspots… and we are happy to meet up with you. Just drop a note at hi@balancr.io and we talk business.
You can learn more about our company and our product balancr on our homepage. We're also on social media, so be sure to follow us on Twitter, LinkedIn and like our Facebook page.
Images © balancr GmbH, Cologne