What will the next generation of payment look like?
Tough question. But one that needs to be answered by the banking industry. Ever-accelerating technological advancements call for more flexibility on behalf of banks and financial institutions. For the 6th time, the German banking community Bankingclub GmbH has explored this topic at their annual Next Generation Payments conference. The conference took place from January 24th to 25th in Cologne.
As developers of emoney and virtual account management software such as CoreWallet we didn't let the chance slip to attend. What we got: Two days of interesting presentations and networking well-worth a detailed conference review.
The Location
The location Bankingclub chose for the conference didn't lack a touch of irony. The hottest new technologies shaping future of payment — where else to discuss them than in an old, decommissioned airport. That said, the beautiful interior of the Butzweilerhof Airport did turn out to be an excellent venue for the event. It's easy to see why one of the investors plans to make it an oldtimer museum in the future. It still has a Wirtschaftswunder vibe to it.
However, modernity found its way in, during the Next Generation Payments 2018. Banks, fintechs and service providers made for a diverse audience. Most companies that were present originate in Germany, Switzerland and of course the Netherlands — a country priding itself on being very active in the European fintech scene in recent years. The conference circled around "next gen" payment technologies, like blockchain or eWallets. But plenty of opportunities for business conversation and networking arose, too. Between every three presentations, Bankingclub edged in a short break for socializing.
Day One — PSD2 and the IoT
Frankly, not all presentations lined up by Bankingclub GmbH provided equal value to us. So in this part of our Next Generation Payments review, we will concentrate on the one's concerning us and our business . You can check out the complete speaker lineup here.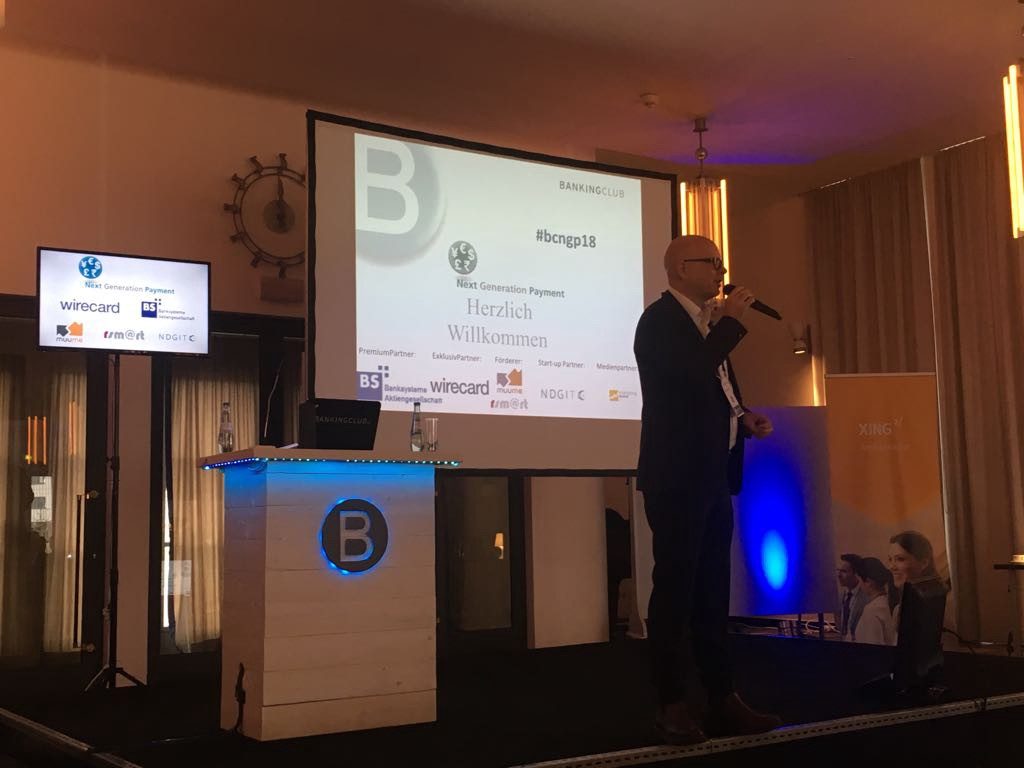 PSD2 was a hot topic at Next Generation Payments 2018. It was addressed by speakers from many different companies like NEXT DIGITAL BANKING or Diebold Nixdorf AG — unsurprisingly, as this brand-new EU directive will change and challenge the European banking sector tremendously. PSD2 (abbr. for Payment Service Directive 2) had just become effective in January. It eliminates the exclusive access banks have to their customers account data. In the future, they have to hand over such data to third-party suppliers (like fintechs), should the customer order them to. And it turns out, there's much to do for banking institutions. So far, no German bank has a PSD2-compliant interface, said speaker Peter Hiekmann from NEXT DIGITAL BANKING.
Volker Koppe from VISA provided an equally interesting presentation on tokenization, unfurling the idea of virtual credit cards in wearables. By that, Koppe touched on one of the topics which will dominate the payment industry in the coming years: The Internet of Things (IoT). Convenience is one of the prime motivators for customers to choose one product or service over another. As smart devices and mobile wallets spread, people adopt a genuine "access everywhere" mindset. Thus, future banking and instant payment services must be available on the go and interact with all kinds of smart devices, else they won't be able to compete. And that's just one of the many aspects how the Internet of Things will challenge the digital payment industry — blockchain technology, a major factor in this regard, was debated at the Next Generation Payments conference, too.
Companies like German UniCredit Bank AG take the fast lane, it seems. In their presentation about the Internet of Things and cash management, they introduced an insightful use case: Imagine an electric car, drawing power from a charging station. The car settles the charging station's bill directly via its own eWallet. Then, the charging station uses the income on its own eWallet to pay its electricity provider, for example a photovoltaic plant. In short, the use case featured a seemless chain of eWallet-to-eWallet transactions. This is an interesting approach for us, as we are specialized in purpose-built eWallet software (like CoreWallet) for all manners of fintech infrastructure.
After Hours
In contrast to the focussed, professional atmosphere of the presentations, the evening activities of the Next Generation Payments 2018 conference were more informal. The excellent catering played a big part in this. Bankingclub GmbH engaged the services of PigBull BBQ. The Cologne-based grill restaurant — founded by a starred chef — provides street food at the highest stage. In combination with a table soccer tournament, the atmosphere was not unlike that found at lunchtime in many startup companies. In review, the Next Generation Payments table soccer tournament turned out to be a prime chance for networking. After the preliminaries everyone randomly teamed up with a fixed partner. During the hunt for the winner's podium, one inevitably got into conversation with your fellow players. A great way to spend the evening, compliments to Bankingclub!
Day Two — Blockchain and Payment
For day two of the Next Generation Payments 2018 conference Bankingclub had invited a prestigous speaker: Dr. Heike Winter from the German Bundesbank addressed a variety of topics currently bothering the industry. At the centre of attention: Cryptocurrencies like Bitcoin and the blockchain technologies behind it. The Bundesbank firmly argued in favor of regulation, attacking the highly speculative market, that developed around the digital currencies in the past months and years. They pointed out, that today, all exchange markets in Europe must be compliant to GWG regulations where appropriate. And this had to include cryptocurrencies, too.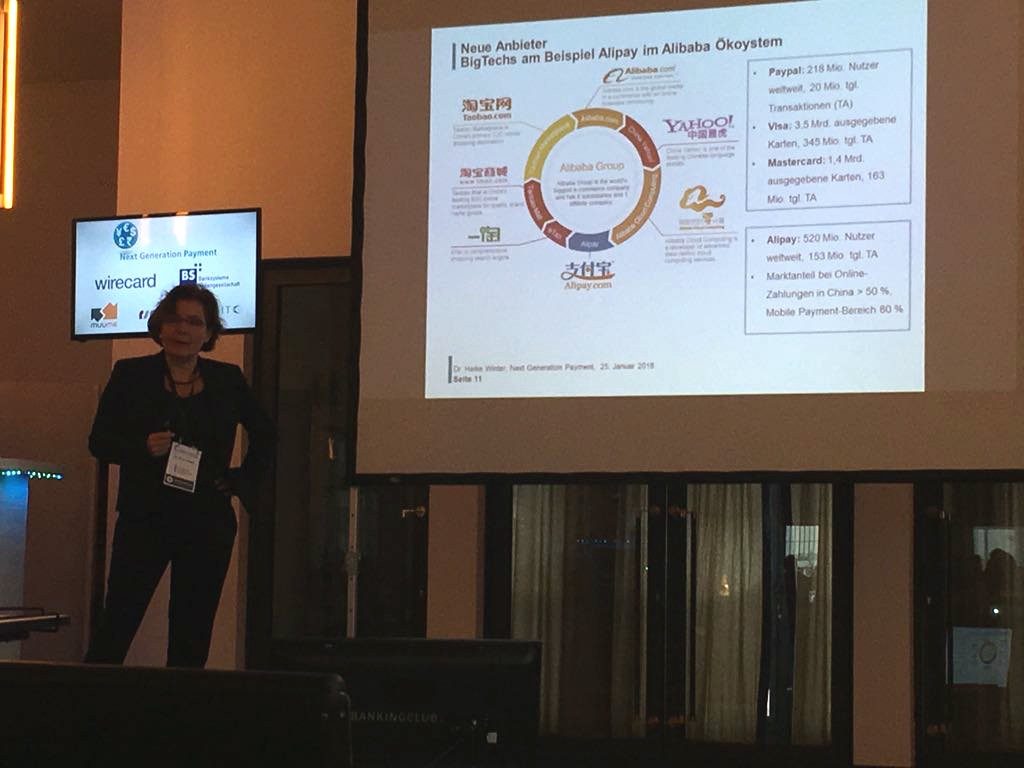 Besides that, Dr. Hermann Geupel presented the audience of Next Generation Payments with a positive outline on cashless, digital payment for the Smart Payment Solutions GmbH. They were glad to announce that payment with Near Field Communication cards and eWallets is becoming more accepted in Germany, showing payment technologies for wearables and iPhones interacting with NFC nodes — even without the ApplePay software, which wasn't yet available in Germany at this point. In such a system, the direct debit transactions are running in the background.
Finally, the question was discussed whether eWallets can be used for liquidity management. Another interesting use case at the conference for our CoreWallet software.
Next Generation Payments 2018 — The Conclusion
Concluding this review of Next Generation Payments 2018, we must say, that we had two very productive days at the Butzweilerhof Airport in Cologne. The presentations threw some light on diverse, vital aspects of modern payment technology, most of which got us thinking. For our field of work — development of ewallets, online payment systems and emoney management applications— Bankingclub's Next Generation Payments 2018 turned out to be quite fruitful, if only in a high-level and business-centered way.
We also feel that there is still room for improvement. Some of the big players in the German banking sector were notably absent. The conference also lacked a greater variety of fintech companies among the speakers. We are certain that this would have improved the discussion, allowing us to look at modern payment mechanisms from a different angle.
Nevertheless, we went home with the intention to return to Next Generation Payments next year. Until then, we make sure our own fintech software products support fintechs in taking a step towards the future.
---
You have something to add? Let us know in the comments below or send us a quick email at info@trimplement.com.
We're also on social media, so be sure to follow us on Twitter, LinkedIn and like our Facebook page.