Going to the circus — hard to imagine a more vintage pastime these days.
The digital infotainment industry compels our attention easily, where daring trapezists or wisecracking Augustes would struggle.
The organizers of Money20/20 Europe 2018 didn't shy away from the contrast. Proclaiming the Greatest Fintech Show on Earth, they paired digital finance with fin-de-ciècle circus arts.
From 4th to 6th June, international fintech and banking companies rolled up in Amsterdam, the new partner city of Money20/20 EU. Among them: A small delegation of invaders from planet trimplement.
But that's details for now. The important question is:
Did Money20/20 Europe 2018 really show?
Time for a short conference recap.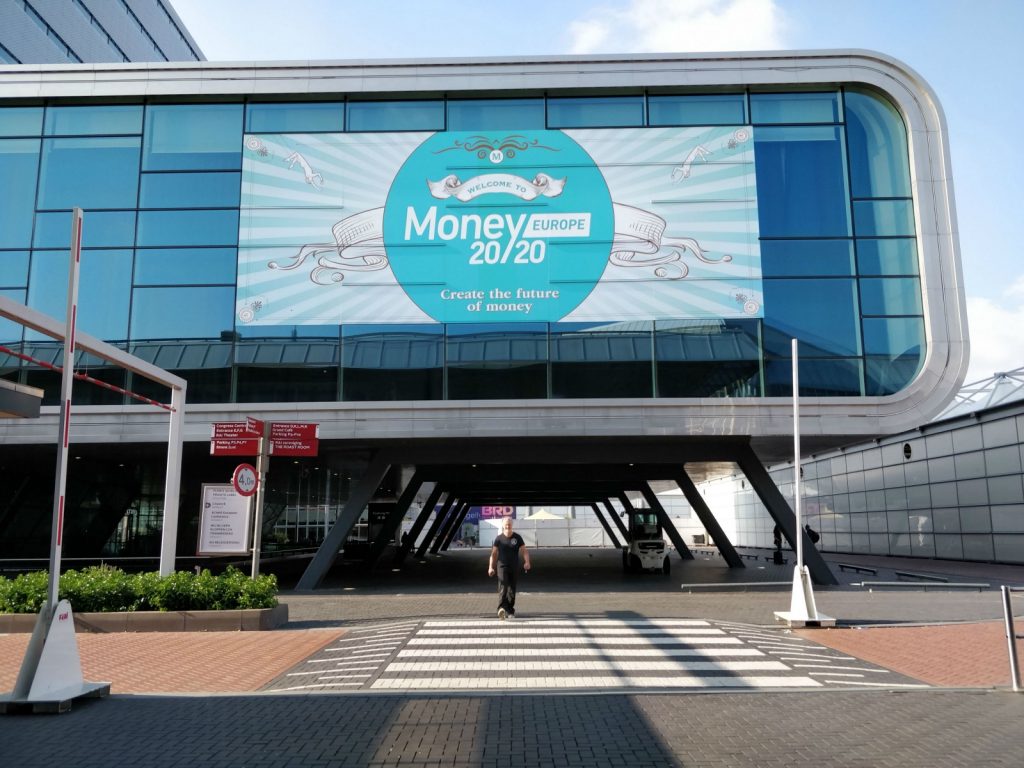 Circus, Circus: The Flair of Money20/20
Blockchain pioneers, long-established banking corporations, medium-sized payment providers, all surrounded by an anachronistic circus show — it was a winning combination.
From an aesthetic standpoint, Money20/20 Europe 2018 was certainly the most memorable so far. The circus theme permeated the whole conference, from the naming and decoration of the presentation stages to numerous small performances by circus artists in the Expo Hall. This even dwarfed the colorful comic book look of last year.
Which brings us to the change of location: The RAI Convention Center in Amsterdam premiered this year as the new host for Money20/20, taking over from Copenhagen.
The move of location was greatly welcomed by many attendees. Amsterdam holds a much-approached airport. And this allows guests from faraway countries or European banking hubs like Great Britain or Switzerland to travel with reduced stress level.
Conveniently, the RAI was well-patronized. Over 1500 international companies showcased, environed by more than 5000 attendees. Nonetheless, the exhibition halls seemed empty at times. This was due to an impressive line-up of talks, interviews and live demos, which kept visitors occupied particularly on the first two days — 470 speakers to be exact.
European Fintech: Trends, Topics and Talks
All those speakers, experts and promoters had much to agree and disagree on. Thanks to a clear (and artful) Agenda folder, it was easy to find our way around the 11 supercategories dealing with topics from regulation to retail, from banking to lending.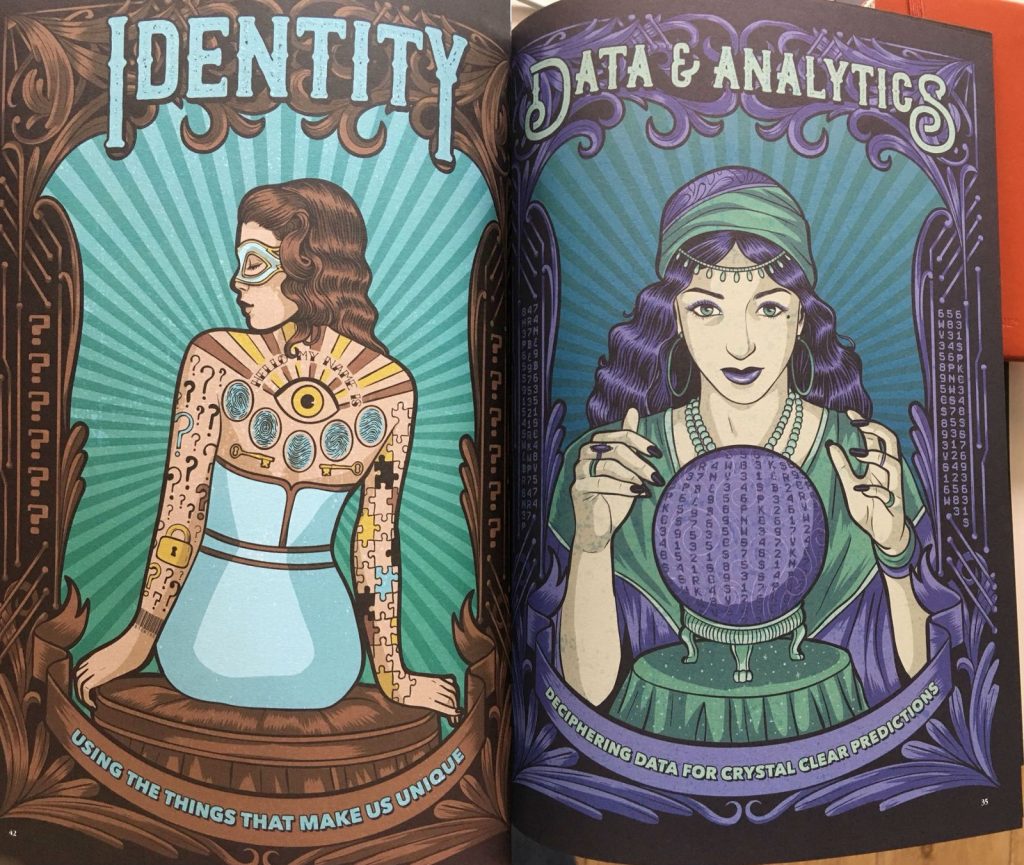 Asia and Amsterdam – A Different Outlook
Not all topics found a broad audience. We were surprised how interests diverged from our last Money 20/20 attendance: In Singapore (and Asia as a whole), Blockchain and cryptocurrencies were central topics. In Amsterdam, they didn't see much enthusiasm, even though some interesting novelties were showcased. For example, Dr. Julian Hosp introduced the COMIT protocol, allowing different blockchains to be connected to each other.
Yet, regarding payment technologies, Asian companies like Alibaba and Tencent took it to the Main Stage. Tencent showcased their payment solution WeChat Pay. In the 5 years since its launch, the app attracted over 600 million users. It's a modest number when compared to the 1 billion of the associated mobile messenger WeChat. In market value, Tencent ranks before Facebook now.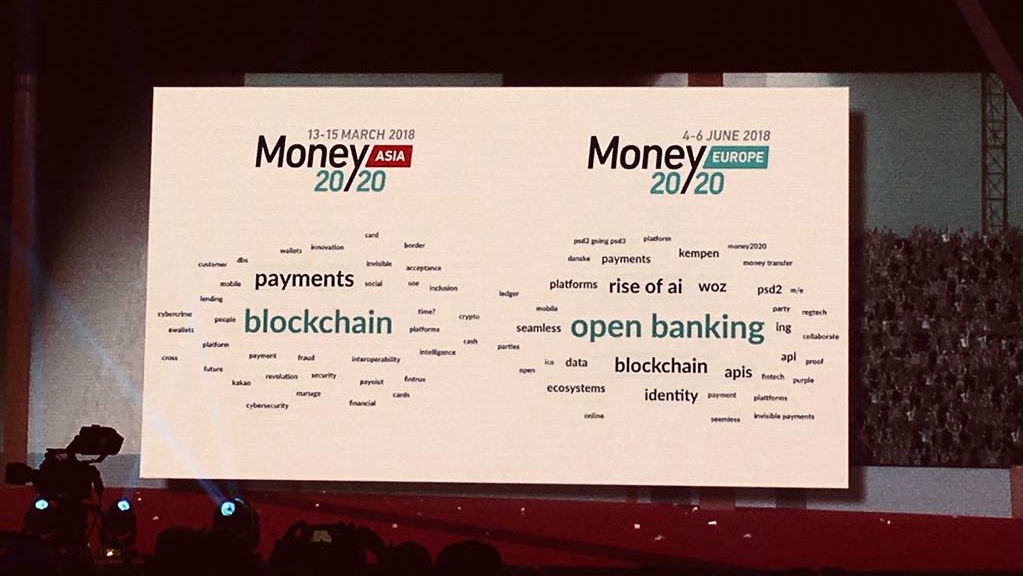 From Data Privacy to Biocryptology
That said, the focus of Money20/20 Europe 2018 didn't lay as much on what to pay with, but more on how to pay and how to control payment processes. The debate circled mainly around Open Banking and the Europe-centric policies of PSD2 and GDPR.
The fields of data privacy and digital identity (KYC) aroused much interest, too. Biocryptology CEO Ted Oorbals stole the show here, presenting a password-free App for identity verification in third-party services. Oorbals shared the stage with a prominent supporter: Antonio Banderas in the leading role of Biocryptology's Greatest Showman promoted the software as a new standard for digital ID verification — if only on-screen via video link.
Also, the Hollywood actor had to share his fame with a well-known face from Silicon Valley: Apple co-founder Steve Wozniak joined Feedzai CEO Nuno Sebastiao for an interview touching on different subjects of modern technology.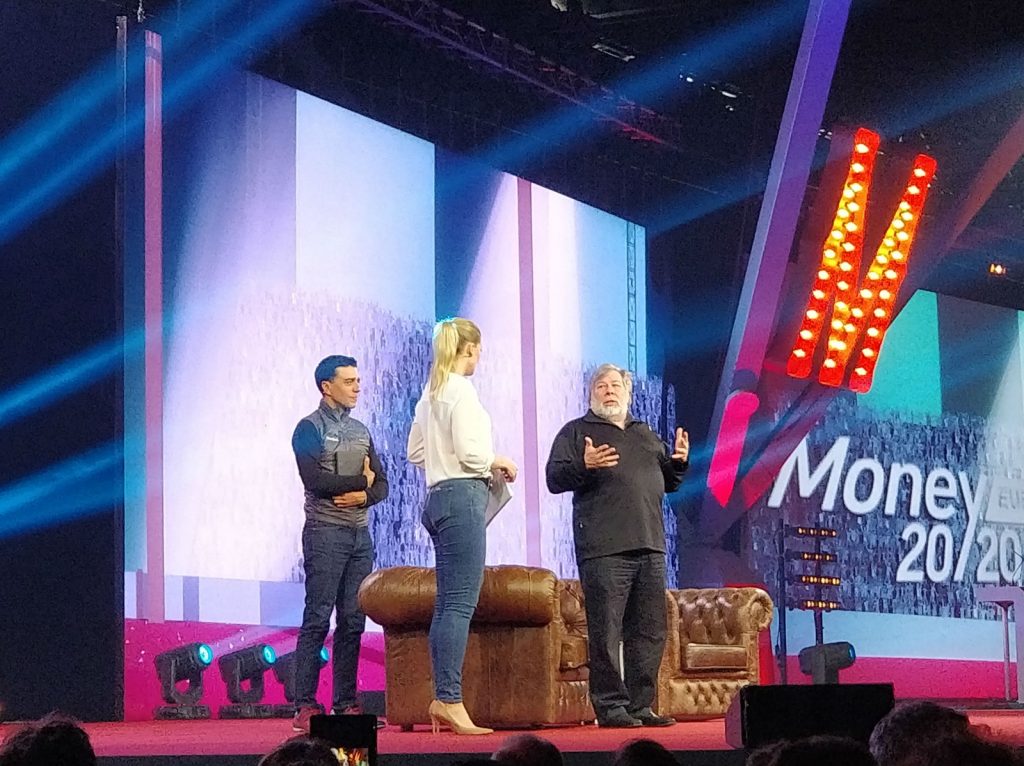 But sometimes technologies that already have been around for more than 10 years still hold up. We were surprised to see that direct carrier billing is a growing market in Europe — and a factor in the debate around Know-your-customer procedures, as it can be used for customer identification.
Conducting Business at Money20/20 EU
As a hub of financial activity, Amsterdam proved to be a fine location for Money20/20 Europe 2018. The event space at the RAI unrolled generously, mostly preventing any pushing and shoving or high volume.
Another reason for the uncrowded atmosphere at the Expo Hall was a bit more problematic for the businesses there: Due to the appeal of the various keynotes, parts of the Expo Hall saw little traffic — especially during the first two days.
On Wednesday, that finally changed, but the overall situation left many companies we talked to with mixed feelings. The Money20/20 organizers will have to decide if the event is to be a conference or an exhibition. If the conference part is too dominant, SMEs will think twice before taking the investment and set up a booth.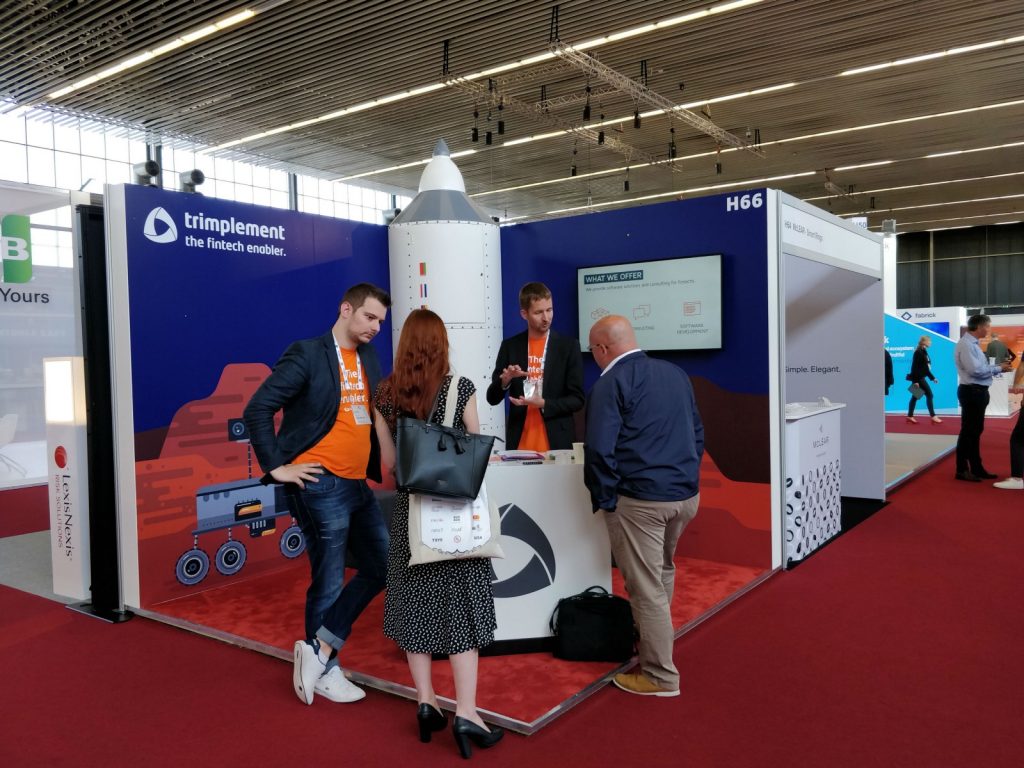 For us, our participation at Money20/20 ringed in a change. For the first time, we didn't maintain just a small stand or kiosk, but our own full-fledged 3 x 3 booth. Chances are you have taken one of our white multi-chargers home with you — or maybe you remember our rocket.
Among the Crowd: The Networking Events
With the stream of visitors drying up at times in Expo Hall, we fell back on the tried and true method for meeting potential new business partners: Networking. And again, this was one of the strengths of Money20/20 Europe 2018.
That said, we found the official network event on Tuesday falling behind a little — at least when compared to the outdoor lunch area opened on Monday: The Street Food Festival Taste of Amsterdam had extended its opening times for one additional day, exclusively for Money20/20 attendees. The food area was situated in the inviting Amstelpark, about 1 km from the RAI — good thing there is Uber. This locale offered every opportunity to enter dialogue with decision makers from the industry while enjoying different meals and drinks from Amsterdam's restaurants.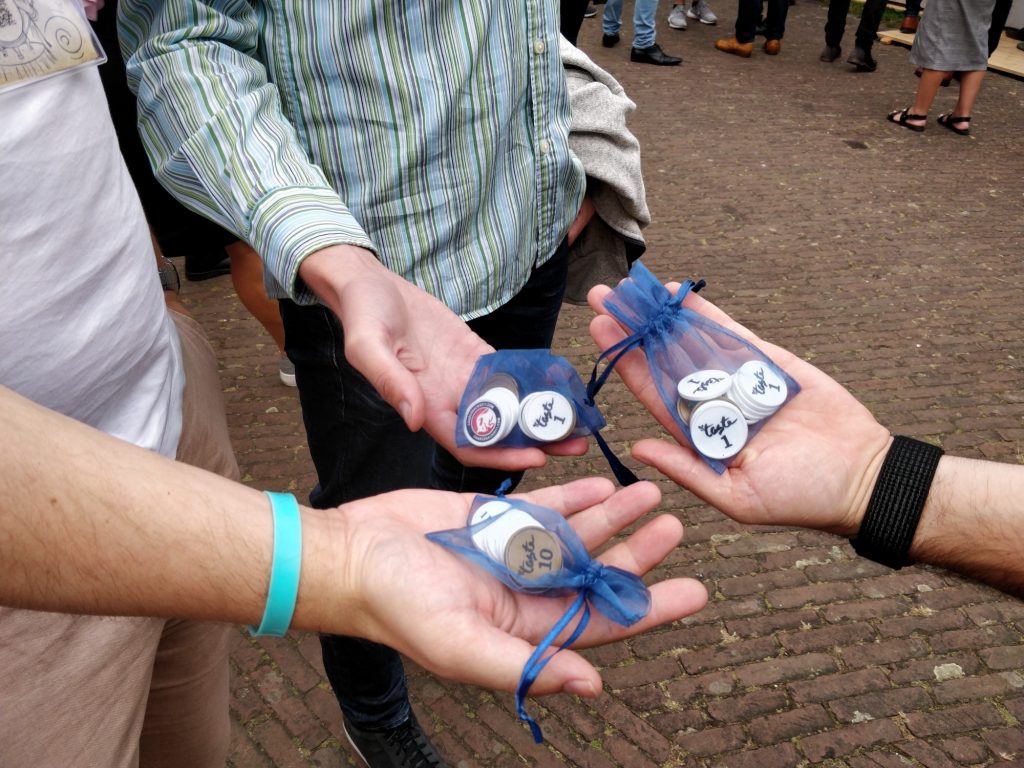 At the networking party on Tuesday evening, it wasn't as easy. Money20/20took it to the streets here, opening an alley of restaurants and bars to the participants. The problem: Every locale kind of turned into a closed room on its own. The networking opportunities didn't arise as naturally as on Monday, unless you were willing to engage in non-stop bar hopping — and that defies the purpose of a restaurant visit.
All in All: Money20/20 Europe 2018 in Hindsight
Taking everything into account, Money20/20 Europe 2018 has been a mixed bag: From a visitor's standpoint, it has been the most impressive Money20/20so far, with a clear design theme and a good variety of topics on the Agenda — and a great catering, as always.
Sadly, the conference part of Money20/20 sometimes played out at the expense of the exhibition part — until day three, when visitors had mostly visited the keynotes they wanted to see. This aspect of the event still requires a little "bugfixing", we felt.
Additionally, we have been missing a truly big announcement, like a company presenting a groundbreaking novelty. Just a tiny bit of revolution was missing. The European fintech scene gets itself work through regulation, while other parts of the world do the same through innovation.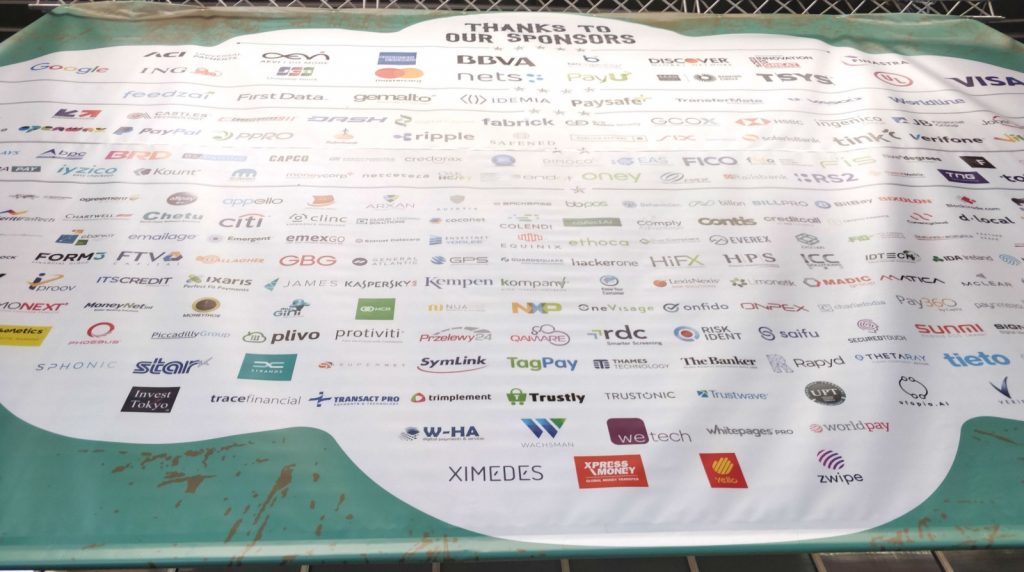 In any case the conference addressed a wide array of topics and gave worthwhile insights on where Europe is headed in banking and finance. And it was magnificently organized and had an evocative, memorable theme. But that's almost a given at the European Money 20/20 events.
And make no mistake: If you chair an European company related to finance, payment and banking — be it an ambitious startup or a multinational enterprise — you should not miss Money 20/20 Europe in any case. If you afford an entire booth or simply settle for the various official and inofficial networking events, that's a question of budget and careful reconsideration of past visits.
What we can say: One-on-one's are always effective.
---
So much for our Money 20/20 recap. Do you have a different opinion? Shoot it at us in the comments section. Or proceed with us right to next year, with our review of Money20/20 EU 2019.
And if you like to get social with us, visit our Twitter, LinkedIn, and Facebook profiles.