The Token
The token VME / Value Manifesto Edition is implemented on the Ethereum blockchain. Token handling (e.g. issue, transfer to the new owner) happens in the corresponding smart contract. It is deployed under a specific Ethereum address.
There, an owner can have a look at the token itself and verify that there is a total limited number of 250 editions as total supply.
When signing up for an account at the Value Manifesto auction platform, the platform also automatically creates an Ethereum address and assigns it to a customer's personal account. The token associated with the Value Manifesto edition bought will then be moved to the buyer's Ethereum address. Interested parties can track the ownership of the token on the public Ethereum explorer as well: https://etherscan.io/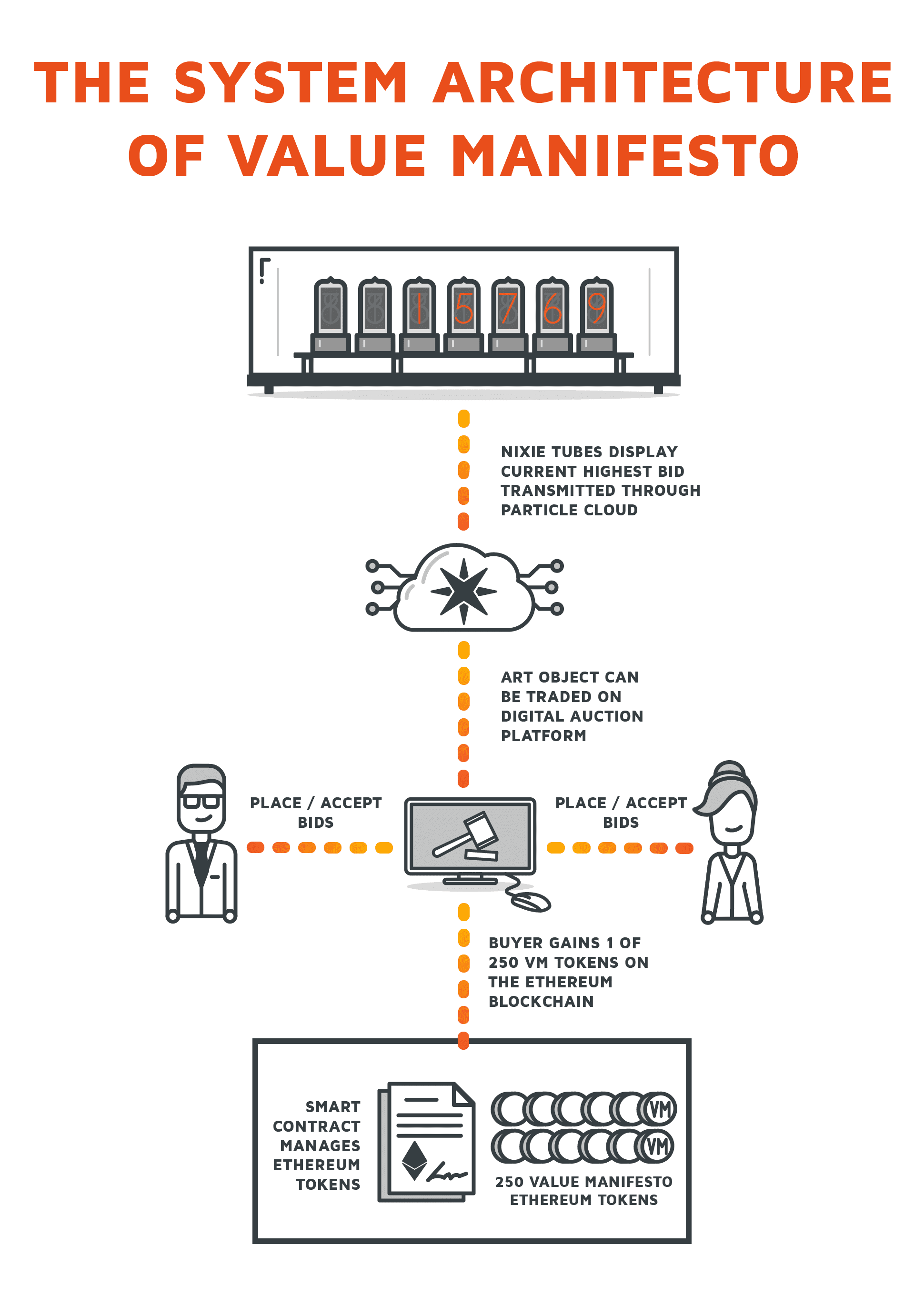 The Auction Platform
The auction platform is the core component of the Value Manifesto system. It's responsible for the:
Management of users
Management of art objects
Auction processes
Management of the whole purchasing process (tracking of payment status, object/token ownership transfers, shipment status and so on)
Whenever the highest bid on the auction platform changes, an event is sent to the particle cloud, an IoT application that is responsible for the communication with nixie tubes. All devices are notified about the price change and immediately display the currently highest bid. The payment processing part (moving money between the buyer and seller) is handled manually / outside of the platform in the MVP.
Conclusion: Art And Technology, They Get Along
The Value Manifesto joint venture has been a unique professional experience for us. Yet, we also realize that, in this very case, turning an artistic vision into a functioning Ethereum blockchain product was not that different from our former work in the fields of fintech, crypto or payment.
And there is more to come, too. We keep improving on the feature set of the Value Manifesto platform. For example, at a later stage we will likely automate the payment processing on the platform further.
Until then, we look at the nixie tubes standing in our office and enjoy its clean, simple expression. And if you, dear reader, are a technophiliac or an art lover, too, just go to the Value Manifesto website and sign up for a user account. Happy bidding!