At a first glance blockchain and art are polar opposites. But how do they say: Opposites attract. Blockchain technology can help to solve many issues of the modern art market, for example:
It can help to securely and transparently track provenance, copyright and ownership information
It can provide frameworks for tokenization of real-world art objects, simplifying access to the art market and allowing "ordinary mortals" to become art investors and get partial ownership on expensive assets (see e.g. Maecenas project description below)
Blockchain and cryptography can be the art environment itself, meaning they can be used to create and store digital art objects (like Crypto-Kitties described below)
And of course, it can help artists to collect fundings for their art projects using the mechanisms of the so-called ICO (initial coin offering)
Let's have a look at the most popular and interesting blockchain and art projects where creativity meets technology.
1. Everledger
In the space of provenance, copyright and ownership tracking one of the most known platforms is probably Everledger.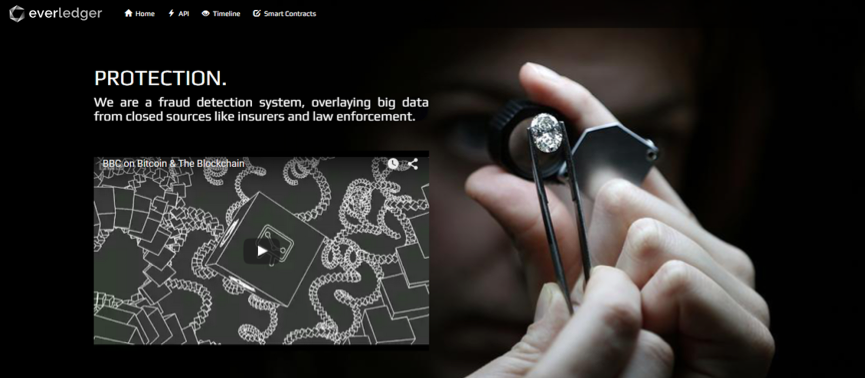 Everledger started as a platform for tracking provenance of diamonds and luxury goods, but it evolved and extended its services and offerings. Now it aims to "solve real-world challenges by delivering breakthrough solutions to industries where transparency, trust and provenance matter most."

No doubt, this applies perfectly to the art market. Thus in 2016 Everledger invested into Vastari.

Vastari supports museums all over the world that are organizing exhibitions. For sharing information about these exhibitions worldwide Vastari provides tools allowing museums to connect and communicate with the private sector and art object owners in an easy and convenient way. The partnership between Everledger and Vastari combines art market knowledge with the power of blockchain technology. This combination helps museums to improve transparency and to fight fraud, too. Blockchain technology enables them to store provenance, exhibition history and data points, which identify the unique art object.

And it's this last part that's most challenging because an art object is much more complex than a diamond. Diamonds can be uniquely identified using so-called 4 Cs (Color, Clarity, Cut and Carat Weight) and additional 40 metadata points. But what are the differentiating properties of an artwork that will enable us to properly identify it? We will see, how Everledger and Vastari are going to solve this problem.
2. Maecenas
Have you ever thought of investing into art? If so, you should have a look at the Maecenas platform.


This project aims to simplify art investments for the average consumer.It allows them to invest even small amounts of money into an art-backed portfolio or buy shares of famous paintings. Maecenas promises to offer the most competitive fees in the fine art market. Indeed, if you compare the typical 20% fee taken by the big auction houses, it's exactly ten times as much as the 2% fee Maecenas demands.

How does it work? Maecenas creates tamper-proof digital certificates linked to art objects and stores them on the blockchain. These certificates are highly secure and unforgeable due to cryptography. A single artwork can be broken down into thousands of certificates.

The core of the Maecenas platform is a decentralized Dutch auction. The auction is publicly reviewable as it's implemented as a smart contract on the Ethereum blockchain. Maecenas has issued and is using its own utility token called ART. Any payable smart contract function call has to be paid in ART. That means that any fiat or cryptocurrency has to be converted to ART for every participant (a seller or a buyer) at the auction. Yet there is no need to buy ART tokens in advance. Maecenas handles the conversion and makes it easy for auction participants to start.

Maecenas has even more to offer. For example, galleries can save costs using the fundraising support at Maecenas instead of getting an expensive art-secured loan from a bank in order to purchase a new art piece. More use case descriptions also for other interest groups such as collectors or family offices can be found on Maecenas web site.

3. CryptoKitties
Now, meet Dragon. Dragon is a cute cryptokitty which was sold for 600 ETH in September 2018 (roughly 170.000 USD at that time). If you never heard about CryptoKitties before, let me explain, what they are.

CryptoKitties are so-called crypto collectibles, meaning collectibles that exist in the digital world of a blockchain. On the Cryptokitties platform, users can buy, sell, collect and breed virtual cats. Every single one of those cats is unique. I would say, CryptoKitties are a kind of modern Tamagotchis, however, they "live" not inside a small egg-shaped computer but on the Ethereum blockchain.

On the technical side, the ownership of a CryptoKitty is tracked on Ethereum via ERC721 tokens. ERC721 is one of the Ethereum token standards and it's used for issuing so called NFTs – non-fungible tokens. Such tokens, unlike the probably most known Ethereum standard ERC20 tokens, are unique and indivisible. They thus can represent any asset in the real or virtual world that needs to be distinguishable from any other one (like your house or a CryptoKitty).

Strictly speaking, one could argue that CryptoKitties are not really art objects. But let's be honest: they are cute! And at least that's something you cannot say of many modern artworks.

4. Rare Pepe Trading Cards
If it's a bit uncertain if cryptokitties can be classified as art objects, then what can you say about Rare Pepe Trading Cards? Well, why not go for it? Just have a look at Satoshi Nakamoto, the father of Bitcoin, in the role of Pepe the frog: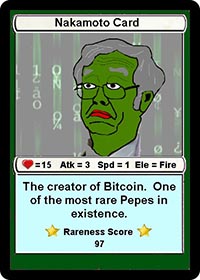 Pepe Cards are digital collectibles like CryptoKitties. The community of Pepe the Frog and crypto fans are driving the project. The users design meme cards. These cards are linked to a special token, PEPECASH. PEPECASH is issued on the Bitcoin blockchain using the Counterparty protocol. After careful inspection by the community, they are also listed in the Rare Pepe Directory. The number of tokens is limited and scarce and thus the Pepe Cards become rare and valuable assets. Pepe Cards can be traded using special Counterparty wallets.

Even if the unlikely happens and it turns out that you don't like Pepe Cards (some of them do look quite nice, trust me), just try to see the bigger picture. Think about the impact of this project on digital economic trends. Think about the options the Pepe Cards project is introducing to all the digital content creators and artists. It shows them the way how to make their digital artwork tradeable and collectible in a new and pretty easy way. They no longer need to include a middleman and save the processing fee. And this prospect makes the image of a green, wrinkly frog much easier to stomach, right?

5. SCARAB
SCARAB is a very special art project which aims to merge the art and the value of the art into one single concept. It's an artwork, which is created from many other artworks at the same time. Being that, it resembles distributed ledger technology itself, where many anonymous participants connect to share one single truth.

What is the idea behind the SCARAB art project? It's simply that everyone can submit his piece of art as an image to the SCARAB project. It will be checked by the community and accepted or declined. If your artwork is accepted, you will receive 1 SCARAB Token for your submission from the available 50.000 Scarab tokens reserved for artists. Every 1.000 submissions the images are processed. The result of this processing is a new SCARAB artwork. This cycle is repeated 50 times and then the project concludes, having generated a limited number of 50 different SCARAB art objects available for sell. Each of these art objects is stored on the blockchain as a unique SCARABART token.

Both SCARAB tokens and SCARABART tokens are issued on the Counterparty like Rare Pepe Cards. There can be as much as a total of 100.000 SCARAB tokens. And as you can see, half of them is reserved for artists sharing their work. Possession of a SCARAB token proves that you are a member of the community. This allows you to vote for submissions and to take part in other important decisions. And as mentioned above, there can be at most 50 SCARABART tokens in total.

When I look at the transaction history in the blockchain explorer for Counterparty I can't say, whether the project is still alive. It looks like there already were 369 submissions and #370 is pending. Nevertheless, I find the idea pretty exciting. Here you can see the state of the current unfinished (in creation) SCARAB artwork (end of January 2019):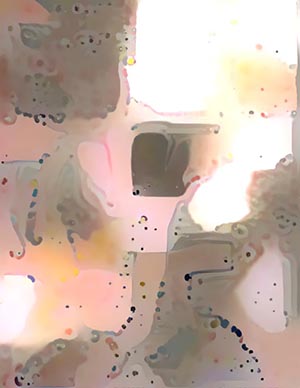 6. Codex
The last project that I would like to share with you is Codex Protocol. Codex is a registry for art assets based on the Ethereum blockchain. The primary problem that Codex wants to solve for the art market is to guarantee the immutability and unforgeability of a provenance record. Nowadays you need to hire an art expert to prove the authenticity of a piece of art, which may become pretty expensive. Codex wants to change this. That means Codex acts as a kind of competitor towards the Everledger mentioned before. Yet, Codex focuses on the art market from the very beginning.

Codex stores a so-called Codex Record for any artwork on the blockchain. This record contains relevant information like origin, author, owner, and other important characteristics.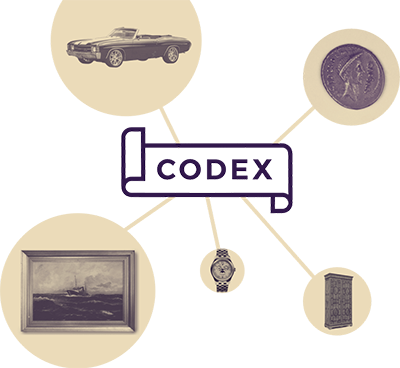 When the owner changes, the new ownership situation is also stored in the track record of course. Information like these are written on the blockchain, but the lion's share of the metadata describing the artwork is stored off-chain and linked to the Codex Record. That's simply because blockchain is not the right place to store big chunks of data.

In May 2018 Ethereal Summit hosted the first auction where sold assets were tied to the Codex Records. And guess what: One of the assets was one of the cute CryptoKitties you've met above. The cat was sold for 140.000 USD and was very famous until the Dragon cat appeared on stage and earned 170.000 USD. So the international art and blockchain community seems not to be too big right now. Which may change in the near future. To support art and blockchain projects Codex even wants to establish its own art foundation: The Foundation for Art and Blockchain.

Conclusion: The Art-Empowering Blockchain Technology
Certainly, there are other exciting art and blockchain projects, which I didn't encounter yet. In any case, I would love to hear about them, so if you know one, just leave a comment!

I've written this article for a simple reason: On one hand, I'm a technical person, a passionate hobby photographer, and an art lover, interested in creative thinking and new technologies. So I wanted to share a couple of great ideas with like-minded people.
And on the other hand, our company trimplement is working together with an artist from Switzerland on a blockchain based art project, right as you are reading this article. If you are curious, please go to our Value Manifesto project site to learn more. And I promise you that I will tell you more about our projects and reveal a couple of technical details about Value Manifesto in the future. Stay tuned!