The future of automotive will not care how fast your car can go. Or how snappy it can look. Instead, innovation will centre around what a car can do. As a manufacturer, you already witness the shift towards connected vehicles, with high-end telematics and web-enabled computers under the hood. Those cars can communicate with external e-commerce applications and service platforms. And that brings technical challenges. One of the most pressing for car manufacturers: Providing a solid automotive payment system to handle all in-car commercial activities.
One may be tempted to turn to the obvious choice: Turn-key payment software by 3rd parties. But once you scale up, the problem of such an approach will, too. And off-the-shelf solutions begin to show their drawbacks.
The alternative would be to choose the payment orchestration model and build up your very own payment infrastructure together with a business and/or a software partner ideally with many years of experience in the payment domain. This article will help you answer the following questions:
Which use cases require connected car payments?
What are the advantages of custom-built payment solutions over standard 3rd-party payment systems?
How will you benefit from payment orchestration realized with the help of a technology partner?
Let's go for the answers!
The Potential of Automotive Payment Solutions
As of now many automotive companies still have to acclimate to the payment industry. The paradigm shift towards cars as mobile payment facilitators only happened quite recently. General Motors took the first steps a mere five years back with their OnStar Go system.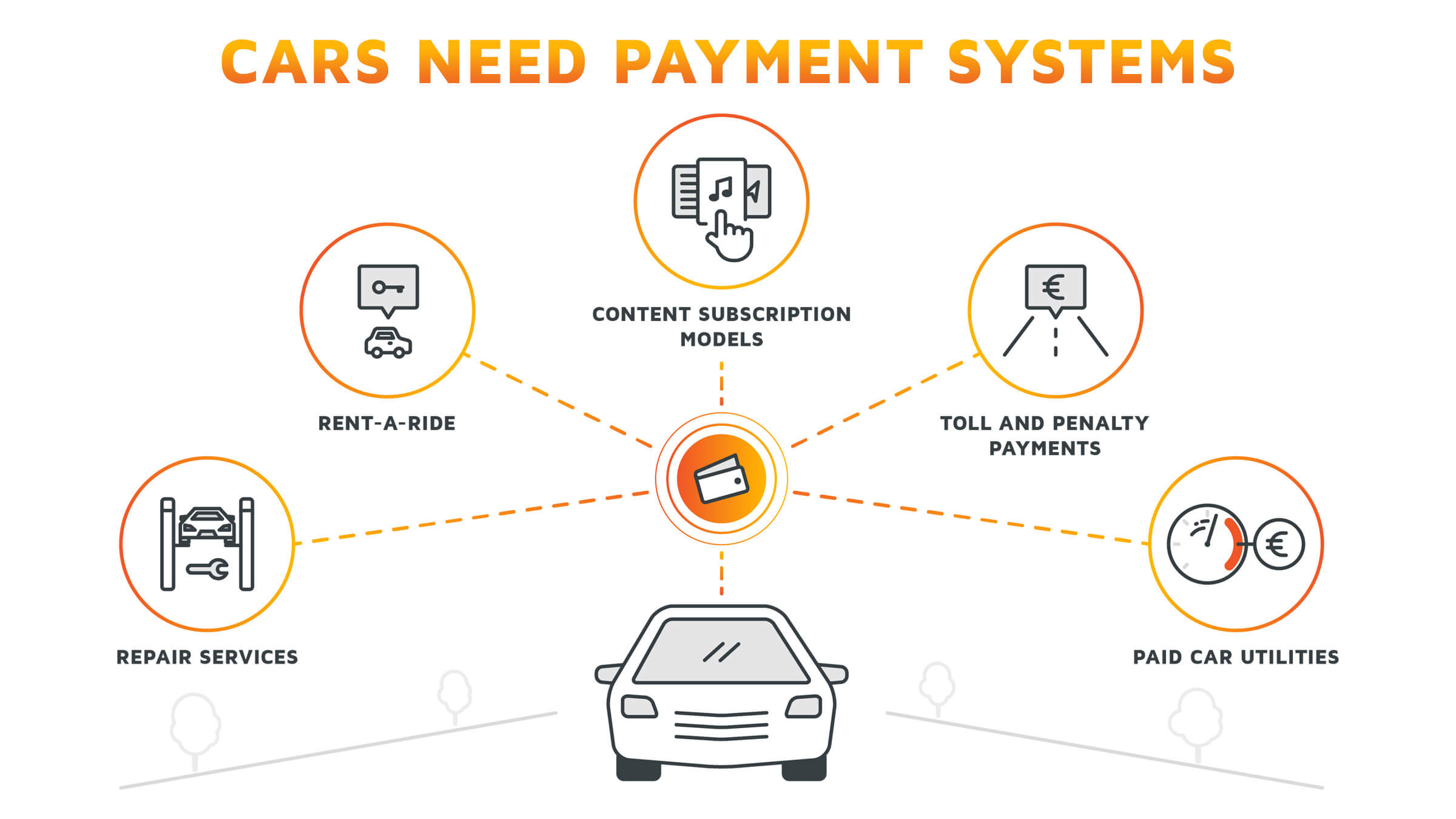 But there is an upside to this: The playing field is not yet divided between just a few technology leaders. Manufacturers who proactively develop smart solutions can act as a transformative force, positioning themselves ahead of the competition.
There is no lack of possible use cases for automotive payments. Examples include:
Toll and Penalty Payments
Equip your connected car's e-wallet to pay tolls automatically when it crosses the border. During traffic controls, officers can recall the car wallet's toll status – no stickers needed. And if penalties are charged due to motoring offences, they can also be settled on the spot.
Paid Car Utilities
Your customers want increased horsepower in their electric cars? Allow drivers to unlock additional services for a fee (like increased e-car speed or heated seats in winter only).
Subscription Models
Offer subscription-based services for music and audiobooks, GPS, or parking space, settled by the in-car payment system in regular intervals.
Repair Services
Have your customers pay for their repair bills easily on your automotive payment platform and offer discounts with partnered auto shops. You might even let the car itself pay the bill directly to the shop.
Rent-A-Ride
Allow users to connect their mobile devices to the rental car computer to start it. The e-wallet inside the car calculates the payment amount based on the distance travelled and automatically collects the funds from the user's wallet. And once autonomous cars frequent the streets, users could simply hail a car and pay via an app.
That's just a small selection of use cases. But the demand for those and similar services is high. As of 2020, at least 53% of European customers said they would switch brands to get access to such connectivity features and services.
Now, how to build a solution that will make them switch to you?
Off-the-Shelf Systems vs. Self-Built Payment Orchestration
Going for off-the-shelf solutions by specialized payment service providers (PSPs) immediately suggests itself:
They support you with integration.
They are thoroughly tested.
And, perhaps most importantly, they are ready-to-use, promising launch within a narrow time frame.
However, looking at long-term business strategy and technology improvement, the cracks in out-of-the-box solutions become visible. Our partner aye4fin has put it straight: The solution you settle for should not leave you inflexible or dependent as a business. Beware of vendor lock-in!
From a technical standpoint, we would add that single PSP solutions can interfere your product's continuous improvement, innovation, and scalability.
As an automotive manufacturer, you're not merely expecting car components to be functional. You want everything to operate at the peak of engineering. Consider your car's payment system to be such a crucial component, too – whether it runs on external platforms or the car computer.
Once customers turn the key, they expect it to work smoothly. And, since they use an instrument of mobility here, they expect it to work smoothly anywhere.
How Payment Orchestration Empowers Car Payments 
To offer a convenient way of payment to your customers worldwide, you can set up a payment orchestration solution. It acts as a central integration layer for APIs of multiple payment service providers. In turn, it presents a single unified API to its clients. If you have several platforms and apps needing payment processing, they all can use the consolidated API of the payment orchestration platform.
This has advantages for every party dealing with the system. For you, this means that you can maintain integration with the PSPs at one place in the system instead of many. For your clients, it hides the complexity of dealing with many different PSPs. And for end-users this culminates in a seamless recurring user experience during the checkout for any of your services.
Moreover, keeping your technology in-house lets you decide about checkout flows, user experience, feature updates, supported payment methods, and currencies according to your own business needs. You choose what to build and when to launch.
Advantages of In-House Automotive Payment Systems
Even in the light of lower initial costs, outsourcing payment to a PSP does not balance out in the long run. Not only can car manufacturers position themselves as technology leaders. They also benefit from self-built payment systems in many regards.
Easier Onboarding
You can offer a unified easy-to-integrate API for multi-national dealer portals or merchants. Not only will your partners appreciate uniform onboarding processes – but the whole system will also be easier for you to maintain and update compared to the direct integration of multiple PSPs in various countries at different platforms and shops. This saves costs in the long run.
Full Feature Update Control
You have complete control over future updates and feature expansions in your system, enabling you to adjust to the ebb and flow of the market. What's more: if planned and implemented accordingly, you can process payments for all the use cases mentioned above, via in-car to online platform payments via the same payment orchestration solution, for example.
Higher Control of Payment Flows
An own system gives you greater control of PSP routing and payment flow. For example, you can bundle transactions to transfer higher amounts, which gives you better conditions with many PSPs. Moreover, you can precisely analyze payment flows and use the insights to improve your services and costs. You can also examine the behaviour of your users to achieve better conversion.
Fast Expansion
Car manufacturers aim their products at an international market. Easy PSP integration supports you in achieving your goals. Also, custom-built audit trail, configurable transaction limits, and flexible integration points for 3rd party AML and KYC software or risk and fraud solutions can help you with regulatory compliance in different regions.
Downwards Compatibility
Ideally, you want to reach as many customers with your digital services as possible – even those driving older vehicles. You can adjust custom-created payment software easily so that it can be used on former generations of cars as well.
Payment Gateways or E-Wallets for Car Payments
When outlining your solution, convinced of the above benefits, there is one fundamental decision to make: Do you want to simply process payments via a payment gateway? Or do you want additional features like user accounts with e-money balance or other digital assets, which would call for a full e-wallet?
Payment Gateways
In some regards, building a payment gateway entails fewer development efforts. Its main goal is to process payment transactions. Thus, a payment gateway does not need top-up or withdrawal functions, for example. Also, while it must adhere to specific regulations and security standards (such as PCI DSS for credit card transactions), it does not require you to obtain an e-money licence or the like just to run it.
However, payment gateways also come with their own pain and sticking points. API design, system architecture, scalability and reliability are just a few examples of Payment Gateway aspects that require domain knowledge and development expertise. We have compiled an overview of a Payment Gateway development process over here.
E-Wallets
Alternatively, when you build your own automotive payment system, you can establish an e-wallet as the foundation. This gives you the opportunity to include features on your car e-commerce platforms, which are in high demand by customers. Examples include loyalty programs, instant refunds, or payment instrument storing for one-click-payments.
However, as your system's structure becomes more complex, so will the solution's development and maintenance. E-wallets also have greater regulatory requirements: You would have to obtain an e-money licence in the countries or regions your wallet platform operates in. For a full run-down on e-wallets and their technical challenges, look here.
Overcoming the Challenges with a Technology Partner
As a car manufacturer, dealing with the finer points of payment, especially in payment gateways or e-wallet development, is a challenge. Besides, you want your system to be thoroughly tested and run stable on a battle-proven code basis. As you are processing your customer's money, bugs are not a mere nuisance. They can lead to funds or user data loss which can cause not only direct financial but also reputational damage, which is hard to recover from.
In order to manage the challenges of automotive payment software development, it is advisable to consociate with a reliable technology partner with expertise in digital payments. They can bring in experienced software engineers and solution architects with the required domain knowledge and support your team with architecture, design, and development. That way, you only outsource the engineering part while you still have full ownership of the results.
Start Up Your Own Automotive Payment Solution!
Establishing a successful payment orchestration platform is a complex undertaking.

For one, you need to find the right partners and establish smooth project management with a focus on your unique value proposition. As a consulting company operating globally, aye4fin is a strong partner to support you here. They also help you devise a goal-oriented further development strategy, taking your product to the next level.


For the technical implementation, you can rely on trimplement. Being a software company with years of experience in the payment industry, the company offers the full-service package: From architecture to development to deployment. And it all will happen within a short time to market, thanks to CoreWallet, the flexible e-wallet and payment software foundation.