In e-commerce and online services, local payment methods grow in importance in many nations around the globe. On an international scale, the global credit card schemes have dominated online payments for a long time. But currently, they are in decline: Estimations state that in 2026, only around 16% of online payments will be conducted via credit cards. At the same time, payment solutions by BigTech companies like Apple, Tencent and Amazon grow in favor. They are popular and well-known all over the globe. In addition, digital financing like Buy Now, Pay Later find widespread adoption on platforms. Customers flock to such payment options as they guarantee them greater financial flexibility in the face of high inflation and times of economic downturn.
In any case, local payment methods are gaining steam: Some purely digital, some including offline interactions. Many such local payment methods have limited reach, only seeing adoption in specific regions or nations. However, sometimes a local payment method is able to expand beyond the confines of its region and become an international player. Today's BigTech payment titans belong to this category.
Alternative payment methods encompass a variety of options, including:
Bank Transfers
Cash-on-Delivery
Direct Debit
Electronic Wallets
Voucher Payments
And more…
The Payment Options Line-Up Reflects Local Payment Preferences
Irrespective of their form, these alternative methods shape a country's payment culture, which can vary greatly even between neighboring nations. Therefore, businesses looking to expand into new markets must consider local payment preferences. It's estimated that up to 77% of transactions are made via alternative payment methods in some counties.
This article is intended to assist companies in understanding the payment cultures of regional markets. It provides an overview and aims to offer businesses a starting point for their own in-depth research. The article will cover the following regions:
Europe
Africa and the Middle-East
Asia and the Pacific
North America
South America
What payment methods do people in these parts of the world prefer? Let's spin the globe a bit and have a look.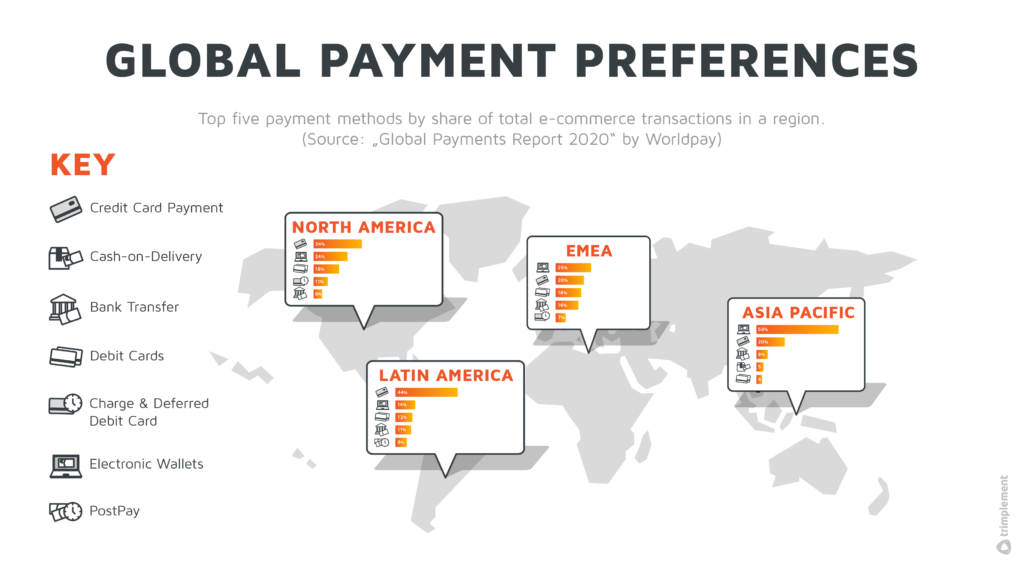 Europe
Where to start a journey if not at our company's home? Before big parts of the EU converted to the Eurozone, many different payment systems and currencies were in place. In some, this is still the case: Out of 27 EU countries, 7 don't use the Euro as their single currency. However, the EU managed to standardize payment and banking across the Eurozone – online as well as offline. The Single Euro Payments Area (SEPA), for example, harmonizes cross-border payments in the EU and a few other countries with strong economic ties to it, such as the United Kingdom.
Next up on the European Union's to-do list is the European Payments Initiative (EPI). It emerged from the Pan-European Payments System Initiative (PEPSI) and aims to establish an EU-wide, coherent payment system and banking network.
However, when considering payment preferences within Europe and the European Union, we witness a great deal of diversity.
Quick Facts: The European Payment Preferences
Credit Cards are still popular: Visa and Mastercard make up for around 70% of those transactions (Europe wants to change this with the EPI, too)
Buy Now, Pay Later payments are gaining popularity in the EU
Cash-based solutions like cash-on-delivery are popular in the western part of Europe
Mediterranean countries adopt e-wallets increasingly – in Italy, they make up for ⅓ of all e-commerce transactions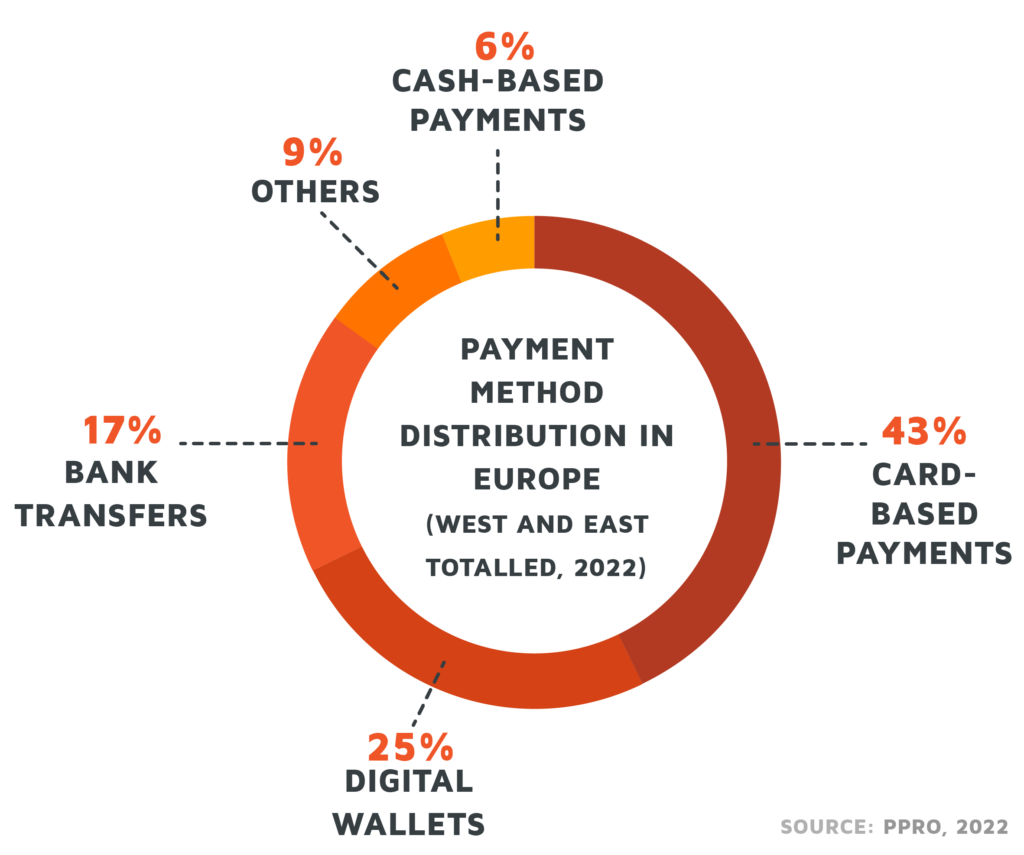 Sources: "Western and Central Europe"(ppro, 2022); "Eastern Europe and the CIS", (ppro, 2022).
Africa and the Middle East
In Africa, cash still dominates, especially in less formalized economies and rural areas. In those regions, e-commerce as a whole is still rare, as is widespread access to the web. At the same time though, Sub-Saharan African communities rank among the world's most eager adopters of mobile devices. This adoption also enables QR Code- and e-wallet-based ways of payment that are gaining traction. In fact, the African continent has been at the forefront of the mobile payment revolution, with influential payment providers like M-Pesa and MTN Mobile Money.
The Middle East faces its own challenges. One of them: A region-specific compliance problem. While credit cards enjoy high popularity in Saudi Arabia, for instance, religious rules prohibit the charge and payout of any kind of interest. This means that local credit card schemes dominate the Islamic world.
Quick Facts: The African and Middle-Eastern Payment Preferences
Cash and cash-on-delivery are popular payment methods in rural Africa and even used for bill payments and remittances
Internet penetration in Africa and the Middle East is 10% lower than rest of the world
Local card schemes dominate Muslim countries due to no-interest policies
A young, urban and economically stable population drives mobile payment adoption in certain countries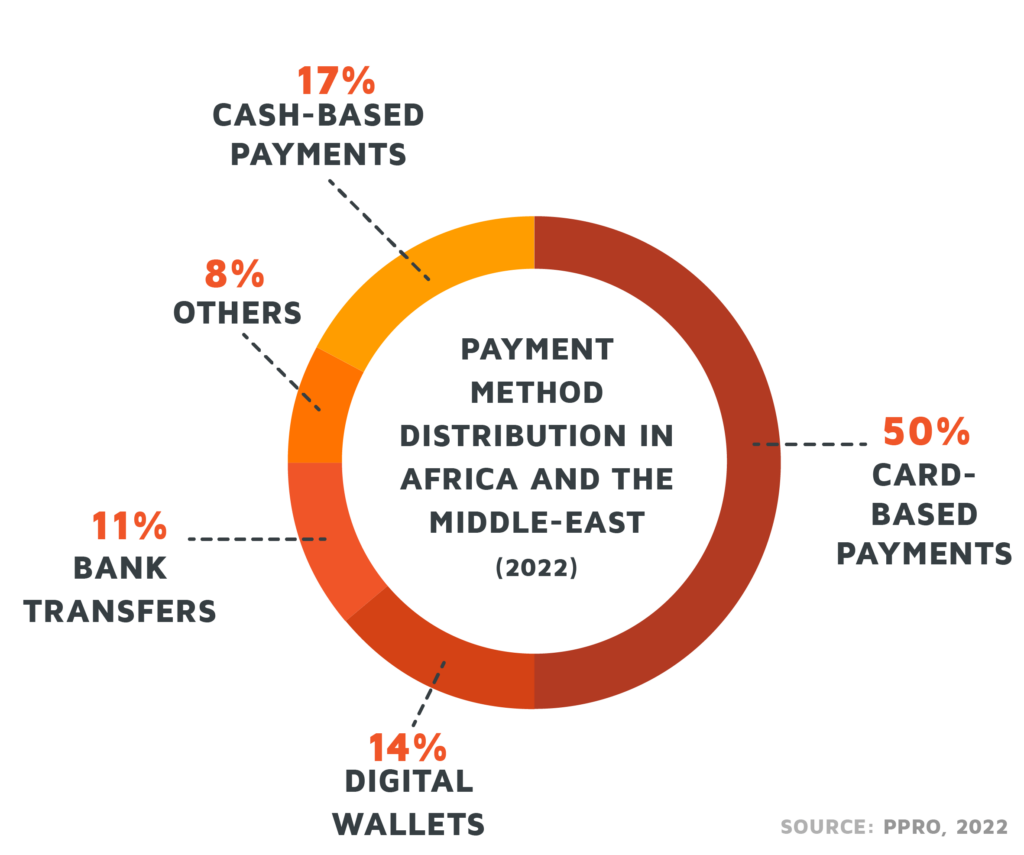 Source: "Middle East and Africa", ppro, 2022
Asia and the Pacific
Asia is arguably the region that embraces digital wallets the most. Depending on the study, well over 50-60% of all transactions are processed through e-wallets. Of course, that's just statistics: Regarding payment cultures, Asia is as diverse as Europe.
China is the frontrunner in digital wallet adoption, with Alipay and WeChat Pay being used by over 1 billion users each.
India's e-commerce growth rate is three times that of China, with digital wallets dominating. However, credit cards that rely on schemes such as Visa, Mastercard, and RuPay are also widely in use.
Australia's payment culture leans towards the Americas even more, with Visa holding a 49% market share.
The rest of Asia is as diverse as it gets: In Japan and South Korea credit and prepaid cards thrive, while in Vietnam, bank transfers rank just behind digital wallets.
Quick Facts: The Asian Payment Preferences
Asian countries differ significantly regarding payment preferences
Digital wallets are more widespread than in most other parts of the world
That's especially true when looking at China, Singapore, India and the Philippines
China has only one single, state-supervised credit card provider: UnionPay
Credit cards are still used much from Japan to Australia to Singapore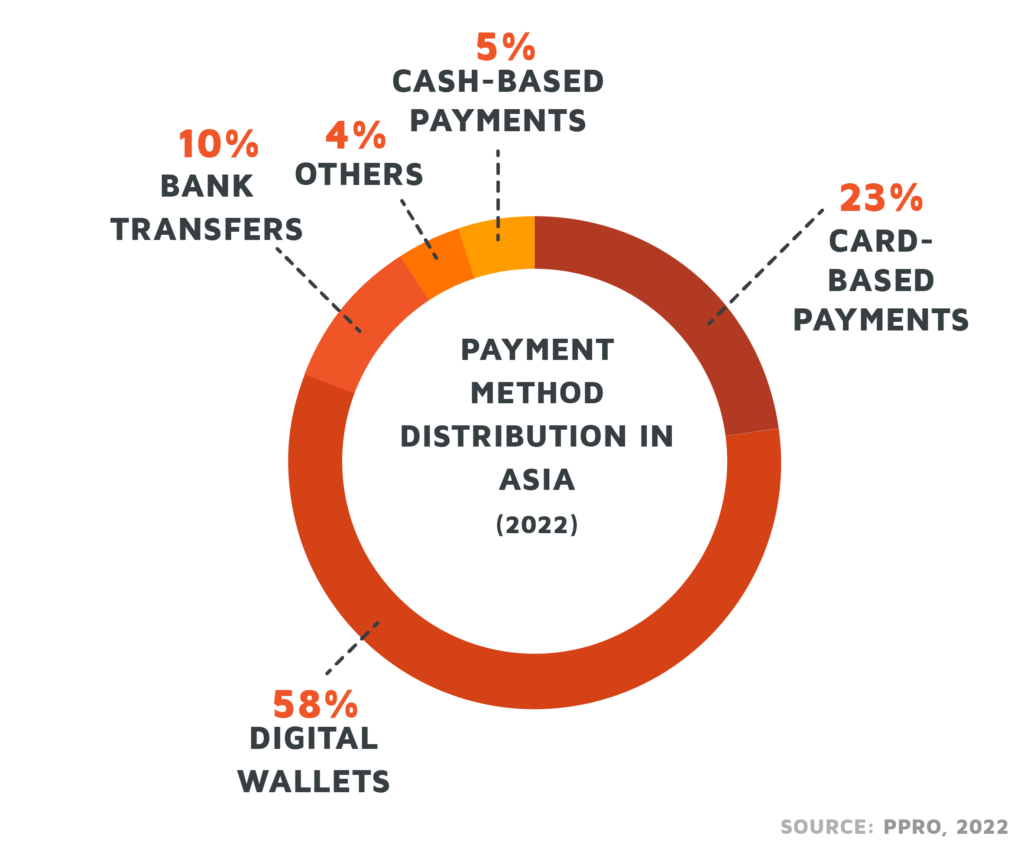 Source: "Asia Pacific", ppro, 2022
Latin America
In Latin America more than two thirds of the population are unbanked or underbanked – and this shows in payment preferences. Like Sub-Saharan Africa, the region is one of the world's strongholds of cash – an average two-thirds of consumers in the region choose it over cards and alternative digital payment methods. As a special hybrid form of cash-based payments in the region, voucher payments are popular. They allow cash payments of online purchases at local stores via specific vouchers printed at home.
In addition, the high number of unbanked individuals provides a point of entry for fintech companies and mobile payment providers. At least 70% of Latin Americans possess mobile devices. In Mexico this has already had a huge impact on payment habits: There, digital wallets already account for one-third of e-commerce transactions. In Brazil, the curve is even steeper. Since it emerged during the pandemic, the digital payment solution PIX has knocked credit cards off their throne as the most popular payment method – it already accounts for 30% of all transactions, compared to 20% with credit cards.
Aside from that, credit cards are very popular in e-commerce, topping the charts and statistics for many LatAm countries. Local schemes play a larger role here than in many other parts of the world.
Quick Facts: The Latin American Payment Preferences
Many consumers prefer cash for offline purchases, and voucher payments make e-commerce orders possible with cash
Credit cards make up for the largest percentage of payment method distribution
In some countries, cards primarily operate within local card schemes like Elo and Hipercard (Brazil), Naranja (Argentina) or Redcompra (Chile)
Digital wallets and other alternative online payment methods are on the rise in countries like Argentina, Brazil and Mexico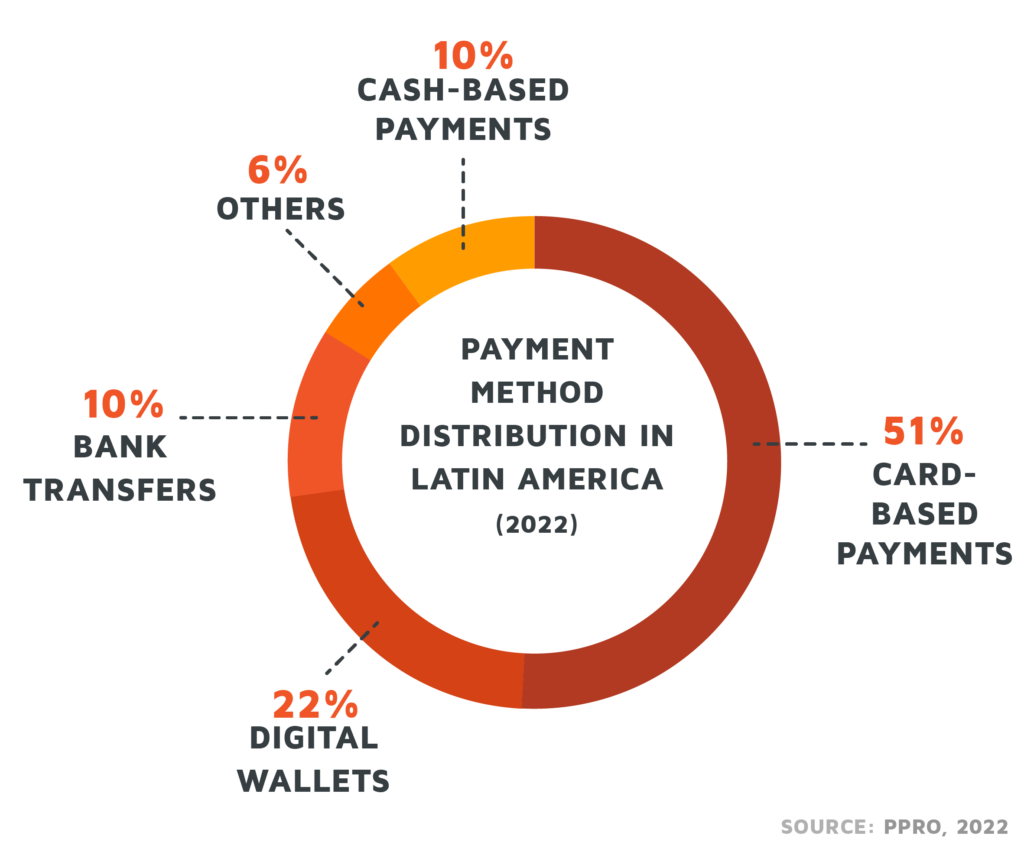 Source: "Latin America", ppro, 2022
North America
Concerning credit cards, the question is often not if but which American card is most popular in any given country. Unsurprisingly, cashless payments are a staple of the United States payment culture. Even before digital-only payment providers came along, Americans have been convicted card payers. Even today, credit cards handle most everyday transactions. Most credit card providers also offer attractive cash-back programmes in the country, giving financial incentives to their customers.
Aside from that, payment via cheque is still a thing in the US. Some providers of direct debit and standing order payments charge fees for their services, making cheques the option to go for, i.e. to pay bills. In absolute numbers though, just a one-digit percentage of payments is done via cash or cheque. Ultimately, the market is trending towards digital payments – with US-based BigTech solutions like PayPal, Apple Pay, Google Pay that's hardly a surprise.
In Canada, the numbers look similar as in the US. Yet, the States' northern neighbor has an even higher affinity towards credit card payments, while digital wallets are less frequented.
Quick Facts: The North American Payment Preferences
Credit cards form the baseline for e-commerce payments for much of the population of the USA and Canada
Cash-based payments don't see much use in both countries
Just short of a third of payments in the US and a quarter in Canada are conducted via digital wallets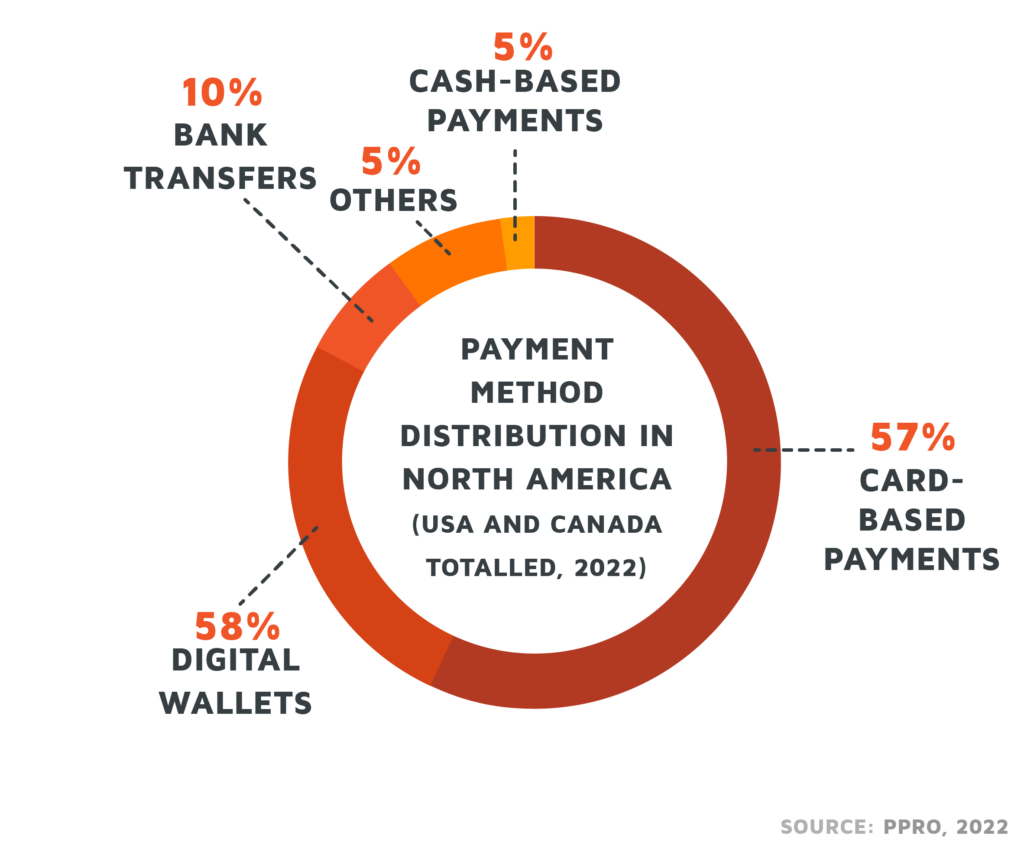 Source: "North America", ppro, 2022
Conclusion: Flexibility Is Key for Growth in E-commerce
A look at the world's payment landscapes shows that customers have multifaceted and sometimes conflicting expectations. The local payment preferences play a major role in this. Meeting these expectations is of great importance for e-commerce companies.
And it is often not enough to offer bank transfers and credit cards. In every country, large parts of the population rely primarily on certain local payment methods. Meeting their payment needs not only brings new customer groups onto the platform, but also allows fallbacks when certain payment methods fail at short notice. In addition, payment choices are an important factor in keeping conversion high: 42% of customers say they will abandon an e-commerce purchase if their preferred payment method is not offered.
However, ensuring a rich portfolio of payment options is challenging for companies. New payment methods are constantly appearing on the market and suddenly finding a large audience – think of the sudden rise of Buy Now, Pay Later financing solutions or the rapid adoption of digital wallets during the pandemic. Any e-commerce company needs to be able to integrate these methods quickly. Proper payment orchestration in a custom-tailored system is a reliable way to do this.
The players who want to put a mark on the world of e-commerce must first navigate the world of payments.

Our payments have been everywhere.
At trimplement, we specialize in the creation of powerful payment orchestration software.
Our systems are processing payments in over 50 nations worldwide. And counting – for integrating new local payment methods is extra easy within our flexible frameworks.
Let's have a talk and see how we can take your project abroad with solid payments.